Linguine with Clams by Nonno Vito
Linguine with Clams by Nonno Vito.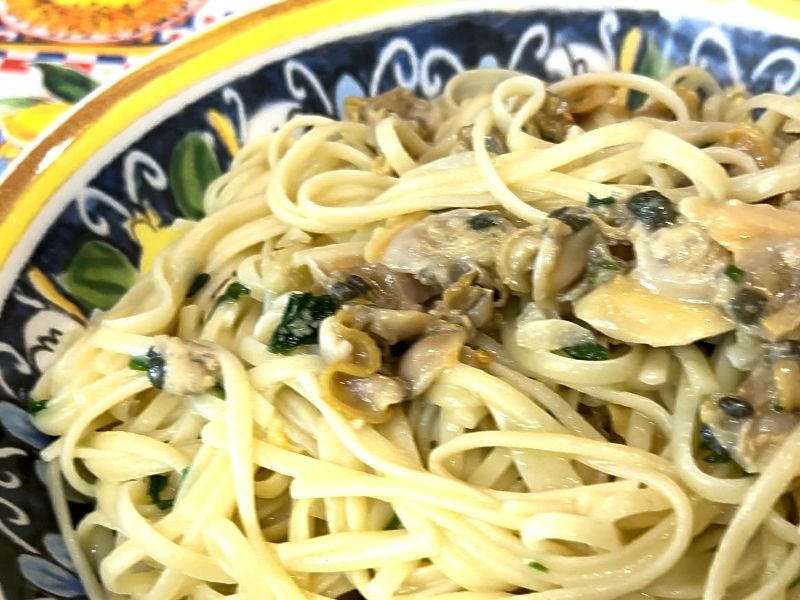 Ingredients
For 4 Person(s)
For the Sauce:
25-30 little neck or top neck clams, shucked, juice reserved

3

tablespoons

extra virgin olive oil

6

cloves garlic, sliced

1

dried chili pepper or 1/4 teaspoon red pepper flakes

1/4

cup

parsley, chopped

1

pound

dried linguine pasta
Directions
Get the Products needed for this recipe

HERE

Separate the the clams from the juice into separate bowls. Set aside

Put a large skillet over a medium flame and heat the oil. Add the garlic and red pepper and cook until the garlic is fragrant, about 30 seconds.

Drop the pasta into generously salted boiling water.

Carefully add the juice from the clams to the pan with the garlic and oil, taking care not to add in any of the sand that settles at the bottom of the bowl. Cook for 1 minute.

Add the clams and parsley to the pan and cook while stirring.

Once the pasta is al dente add it to the pan and toss until most of the liquid at the bottom of the pan is absorbed.

Serve immediately with an extra sprinkle of fresh parsley.
Reviews
Sunday, 10 September 2023
This is a must try recipe!
- Coffeyjane