Mezzi Rigatoni with Mussels and Cherry Tomatoes
Mezzi Rigatoni with Mussels and Cherry Tomatoes... and a sprig of Rosemary.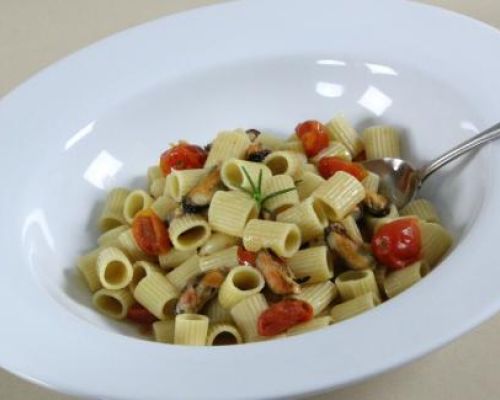 Ingredients
For 4 Person(s)
For the Pasta
1

pound

mezzi rigatoni

4

pounds

mussels

20

cherry tomatoes cut in half

peperoncino - hot pepper

5

cloves garlic

2

sprigs fresh rosemary

extra virgin olive oil

salt
Directions
Wash the mussels real well under cold water and put them in a deep pot.

Steam the mussels until they all open. Let them cool off a bit.

Remove the fruit from the shells and set aside. Filter the broth at the bottom of the pot and save for later.

In a large saute` pan add 4 Tbs of EV olive oil and the cloves of garlic and let them color.

Add the peperoncino, the rosemary and the cherry tomatoes.

Let the tomatoes saute for about 5 minutes and add the broth from the mussels.

Let the broth come to a boil and continue to simmer for about 4 minutes.

Add the fruits of the mussels and let everything saute` for 4 minutes.

Meanwhile you have boiled the pasta to an Al Dente consistency. Add the pasta to the pan and toss for 2 minutes.

Serve with a drizzle of EV olive oil.
Categories:
Nonna Romana Sciddurlo
,
First Course Recipes
,
Italian Pasta Recipes
,
Puglia Recipes
,
Easy Recipes
,
All Recipes
,
Christmas Recipes
,
Easter Recipes
,
Valentine's Day Recipes
,
Mussels Recipes
,
Rigatoni Recipes
,
Mother's Day Recipes
,
Father's Day Recipes
,
Christmas Fish Recipes
,
Good Friday Recipes
,
Mediterranean Diet First Course Recipes
,
Thanksgiving First Course Recipes
,
Christmas First Course Recipes
,
Easter First Course Recipes
Reviews
Thursday, 14 December 2017
This dish was amazing!! Only thing added was some starchy pasta water since my husband and I like ex...
See Full Review >>
- pb6012002