Mint Chocolate Ice Box Cake
Mint Chocolate Ice Box Cake.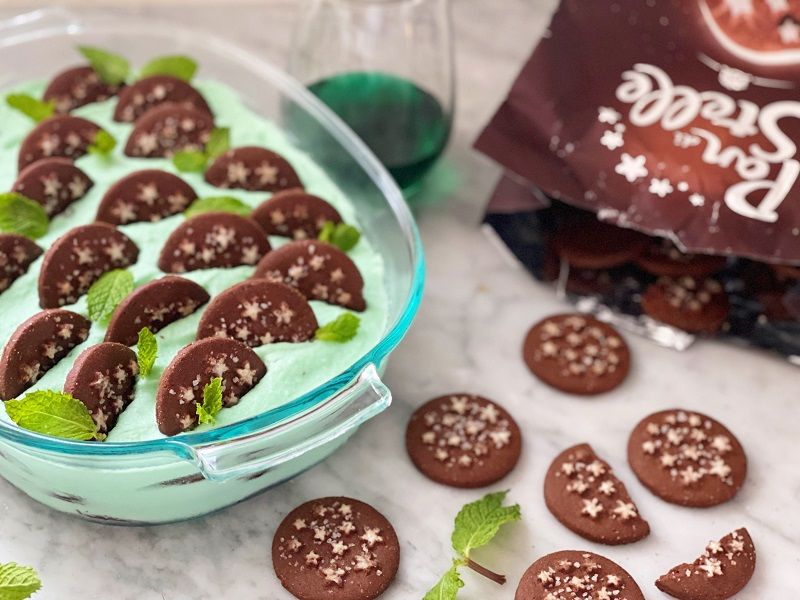 Ingredients
For 1 Batch(es)
For the Cream:
1 1/4

cups

heavy whipping cream

1

pound

Mascarpone cheese, room temperature

1

cup

Mint Syrup (See Link below to Purchase!)
For the Cake:
About 72 Pan di Stelle Cookies or Chocolate Graham Crackers, plus a few extra for decorating

About 2 Cups whole milk for dipping
Directions
In a mixing bowl beat the heavy whipping cream using an electric mixer till soft peaks form.

Add in the mascarpone cheese and mix until just combined.

Add in the Mint syrup and fold to combine until the mixture is pale green and smooth. Set aside.

Dip the first layer of Pan di Stelle cookies into the milk and make a single layer in a 9x13 inch baking dish. You should use about 24 cookies per layer.

Layer 1/3 of the cream on top of the cookies.

Repeat twice more.

Decorate the top with some pan di stelle cookies and refrigerate for 4-6 hours before serving.