Nonna Dorotea's Cheesecake
Dreamy cream cheese and mascarpone cheesecake with a little kick of Marsala wine!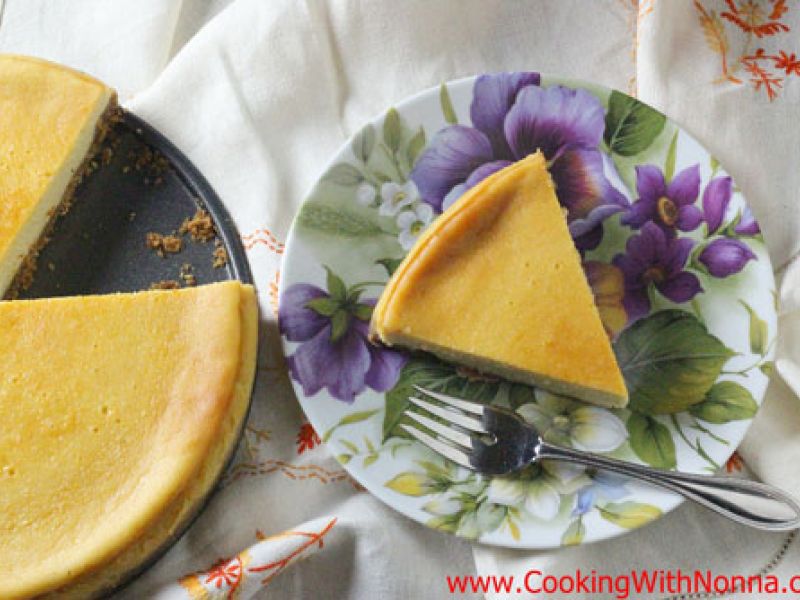 Ingredients
For 8 Person(s)
For the Crust:
1

cup

graham cracker crumb

4

tablespoons

granulated sugar

2

tablespoons

butter, melted

2

tablespoons

Marsala wine
For the Filling:
16

ounces

cream cheese, room temperature

16

ounces

marscapone cheese, room temperature

1

cup

granulated sugar

1

tablespoon

Marsala wine or vanilla extract (the marsala can have a strong flavor. You can substitute with vanilla if you don't care for it. Only use one or the other)

4

large eggs, room temperature
Directions
To make the crust:

Preheat the oven to 325 degrees

Wrap the bottom of a 9 inch springform pan with aluminum foil. Set aside.

In a mixing bowl combine all the crust ingredients together and mix until combined. Press the mixture into the bottom of the pan and bake for about 10 minutes or until the crust has colored slightly. Set aside and cool completely.

To make the filling:

Preheat the oven to 350 degrees.

In a large mixing bowl combine the cream cheese and mascarpone. Beat with an electric mixer until combined. Add the sugar and marsala or vanilla and beat until smooth and creamy.

Beat in the eggs one at a time, scraping down the sides of the bowl after each addition. Beat until everything is smooth and well blended. Pour into the prepared pan.

Place the pan in a roasting pan large enough to fit the springform pan inside. Fill the roasting pan with several inches of room temperature water (about halfway if you can!) Bake for 1 hour and 10 minutes.

Cool on a countertop to room temperature and refrigerate for about 8 hours before serving.
Categories:
Dessert & Cookie Recipes
,
All Recipes
,
Christmas Recipes
,
Thanksgiving Recipes
,
Easter Recipes
,
Valentine's Day Recipes
,
Mother's Day Recipes
,
Father's Day Recipes
,
Easter Cakes and Cookies
,
Valentine's Cake and Cookie Recipes
,
Valentine's Day  Recipes
,
Cakes and Pies Recipes
,
Thanksgiving Dessert Recipes
,
Cheesecake Recipes
,
Christmas Dessert Recipes