Zuppa di Pesce Marechiara
Seafood in a light tomato based sauce. This recipe originated in the Gulf of Naples area.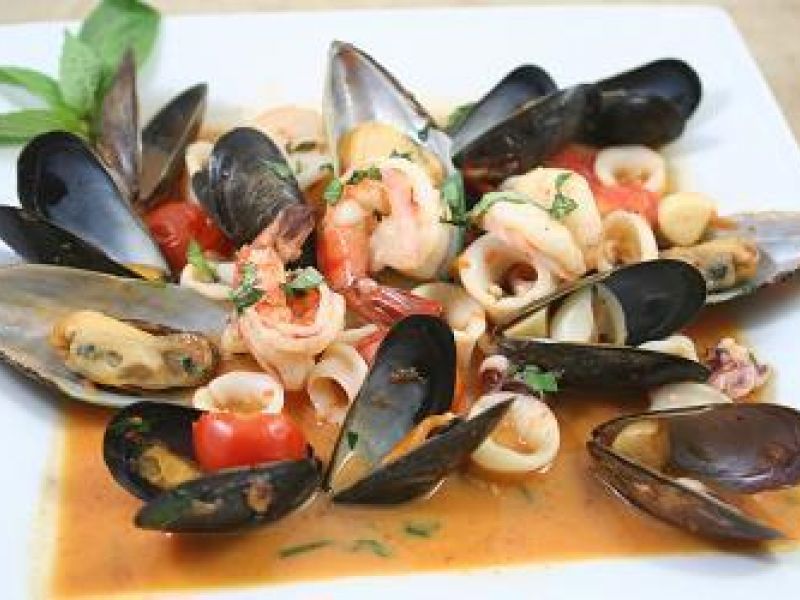 Ingredients
For 4 Person(s)
Recipe
1

pound

fresh shrimp

1

pound

fresh calamari

1

pound

fresh scallops

1

pound

fresh mussels

2

dozen

little neck clams

10

cherry tomatoes

4

cloves of garlic

1/4

cup

dry white wine

olive oil

parsley

salt & pepper
Directions
C

lean and cut the calamari into small rings. Remove the shell and devein the shrimp. Wash in cold water the clams and the mussels.

Heat the olive oil and garlic until the garlic is slightly golden.

Add the calamari, the mussels and the clams. Saute` for two minutes. Then add the white wine.

Continue to saute` until the clams and the mussels open. Any clams or mussels that do not open, do not force to open as they may be bad. Remove them from the pan and open them outside of the pan or just discard them.

Add the cherry tomatoes, shrimp and scallops and let simmer for an additional 5 minutes.

Garnish with parsley and serve.
Categories:
Nonna Amalia Lubrano
,
First Course Recipes
,
Entree Recipes
,
Fish Recipes
,
Campania Recipes
,
Intermediate Recipes
,
All Recipes
,
Christmas Recipes
,
Thanksgiving Recipes
,
Easter Recipes
,
Valentine's Day Recipes
,
Mussels Recipes
,
Shrimp Recipes
,
Zuppa di Pesce Recipes
,
Mother's Day Recipes
,
Father's Day Recipes
,
4th July Recipes
,
Labor Day Recipes
,
Clams - Vongole Recipes
,
Christmas Fish Recipes
,
Valentine's Day  Recipes
,
Easter Dinner Recipes
,
Gluten Free Entree Recipes
,
Mediterranean Diet Entree Recipes
,
Thanksgiving First Course Recipes
,
Christmas First Course Recipes
,
Easter First Course Recipes
Reviews
Thursday, 14 December 2017
-
Thursday, 14 December 2017
FANTASTICO!!! I couldnt believe how simple and delicious this was. Simple and delicious isn't that ...
See Full Review >>
- jsilva973