Nonna's Fried Potatoes
Nonna's Fried Potatoes... a simple side dish or a good snack!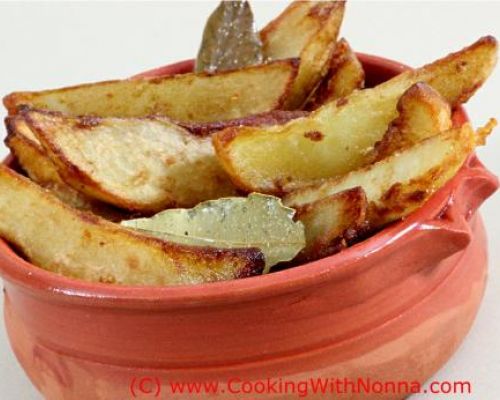 Directions
Peel the potatoes and slice them in wedges.

In a frying pan put 2" of olive oil along with the bay leaves.

Let the oil get hot and add the potato wedges. Let them fry until they become golden brown.

Remove them from the oil and sprinkle salt.
Categories:
Nonna Romana Sciddurlo
,
Side Dish Recipes
,
Puglia Recipes
,
All Recipes
,
Christmas Recipes
,
Thanksgiving Recipes
,
Easter Recipes
,
Valentine's Day Recipes
,
Super Bowl Recipes
,
Mother's Day Recipes
,
Father's Day Recipes
,
Memorial Day Recipes
,
4th July Recipes
,
Labor Day Recipes
,
Potato Recipes
,
Summer Appetizer-Side Recipes
,
Gluten Free Appetizer Recipes
,
Vegetarian Appetizer Recipes
,
Vegan Appetizer Recipes
,
Mediterranean Diet Appetizer Recipes
,
Thanksgiving Appetizers and Sides Recipes
,
Christmas Appetizer Recipes
,
Easter Appetizer and Side Recipes