Nonna's Round Cookies for Coffee
Nonna always keeps these cookies around the house. They are perfect with your morning coffee or cappuccino.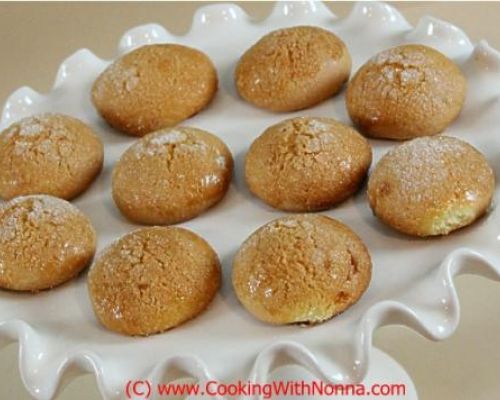 Ingredients
For 1 Person(s)
For the Cookies:
2

pounds

flour

1

pound

sugar

8

large eggs

6

teaspoon

baking powder

lemons, zest only

1

cups

olive oil

2

eggs for the egg wash
Directions
Pre-heat the oven at 375F.

In a large bowl or a stand mixer beat the 8 eggs very well.

Add the olive oil and beat well.

Add the baking powder and lemon zest... mix well.

Add the sugar and mix well.

Add the flour all at once and let it mix completely for a few minutes.

The mix will be rather soft.

Put a little flour in the palm of your hand.

Take a spoonful of dough and drap it in the palm over the flour. Put some flour in the palm of the other hand as well and roll the dough into a ball. Drop it on the baking pan and flatten the ball with the palm of your hand.

Finish rolling all your cookies.

Beat the other two eggs and brush each cookie with the egg wash. Finish with some sugar sprinkles.

Bake at 375F for 20 Mins.
Categories:
Nonna Romana Sciddurlo
,
Dessert & Cookie Recipes
,
Puglia Recipes
,
Easy Recipes
,
All Recipes
,
Christmas Recipes
,
Thanksgiving Recipes
,
Easter Recipes
,
Valentine's Day Recipes
,
Mother's Day Recipes
,
Father's Day Recipes
,
Memorial Day Recipes
,
Christmas Cookies Recipes
,
Easter Cakes and Cookies
,
Valentine's Cake and Cookie Recipes
,
Cookies Recipes
,
Thanksgiving Dessert Recipes
Reviews
Monday, 26 November 2018
Thank you so much for posting this. My husband was missing his grandmother (who immigrated from Molf...
See Full Review >>
- fushigidane