Pasta Salad with Italian Tuna and Arugula
Pasta Salad with Italian Tuna and Arugula: I love a good cold pasta salad in the summer! They're so refreshing and easy to prepare. For this one I tossed some Italian tuna with some elbow pasta because I like how the tuna gets caught inside the pasta, but you can use any cut you like. You can even use leftover pasta from the night before. The arugula, tomatoes and red onions are such crisp clean flavors that add some crunch. Feel free to play around with the ingredients and use what you have. Adding some fresh cucumbers or carrots would be fabulous too. Make this the night before a party and chill in the fridge until your guests arrive!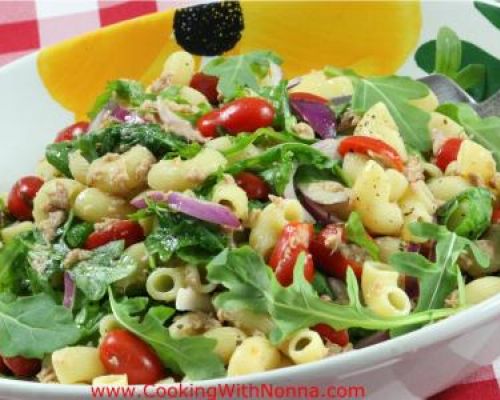 Ingredients
For 4 Person(s)
For the Salad:
1

pound

Gomiti or elbow pasta (use any cut you like)

8

ounces

Italian tuna packed in olive oil drained

2

cups

arugula packed (washed and dried)

1

medium red onion chopped

1

cup

cherry tomatoes cut into halves

1/2

cup

red wine vinegar

1/4

cup

extra virgin olive oil (extra for drizzling on the freshly cooked pasta)

salt and fresh black pepper to taste
Directions
Get your Italian Tuna

HERE!

Cook the pasta until al dente in salted boiling water. Drain in a colander and run under cold water to stop the cooking pasta. Toss with olive oil to prevent sticking. Allow the pasta to cool.

In a bowl, combine tuna, arugula, red onion and tomatoes. Add the vinegar and oil, salt and pepper and toss.

Finally add the pasta and toss together once more adding more oil if needed.

Chill and serve with extra fresh black pepper and another drizzle of good EV olive oil.
Reviews
Thursday, 27 August 2020
Great summer dish! I love all the ingredients and it's a real treat in summer. We used tomatoes a...
See Full Review >>
- Mfgaud