Pastiera di Riso - Neapolitan Rice Pie
Pastiera di Riso - Neapolitan Rice Pie
Adapted from Pina Bresciani's Rice Pie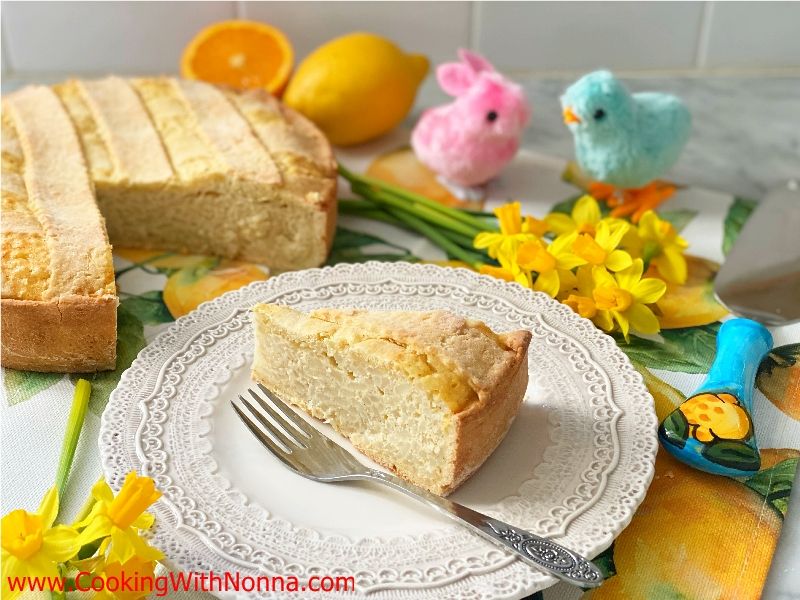 Ingredients
For 1 Batch(es)
For the Crust:
2 1/2

cups

all purpose or 00 flour, plus more for dusting

1/2

cup

sugar

3

large eggs

2 1/2

tablespoons

vegetable shortening, plus more for greasing

dash salt

zest of one lemon
For the Filling:
1

cup

carnaroli rice

2 1/2

cups

water

2

cups

whole milk

1

cup

sugar

2

cinnamon sticks

peel of one orange large pieces

1/3

cup

butter

1 1/2

cups

ricotta cheese

2

packets Vanillina powder or 2 teaspoons vanilla extract

1

tablespoon

fior d'arancio (orange blossom water)

4

large eggs

1/2

teaspoon

cinnamon
Directions
Get the ingredients needed for this recipe

HERE!

To make the crust:

In a large mixing bowl, combine the flour, sugar, eggs, shortening, salt, and lemon zest. Mix with your hands until a firm dough forms. Flatten the dough into a disk. Wrap in plastic wrap and refrigerate for at least one hour or overnight.
To make the filling:
Add the rice and water to a pot, and over medium heat, let them come to a boil.
Once rice and water have started to boil, cook for 8 minutes, stirring often.
At this point, add the milk, sugar, orange peel and cinnamon sticks.
Still on medium heat, cook the rice mixture for 30 minutes, stirring often so that the rice doesn't stick to the pot, until the rice is cooked and most of the liquid has absorbed. If rice is cooking too quickly, turn the heat down slightly.
At this point, remove the orange peel and cinnamon sticks.
Turn heat down to low, add butter to the rice, and cook for 7-10 minutes until all the liquid has absorbed and the mixture is dense in consistency.
Add the rice to a shallow square dish, level it out, and cover with saran wrap. Let it cool.
If your ricotta is very moist and has a lot of liquid in it, drain it with a colander.
In a big bowl, add ricotta, beaten eggs, Vanillina, fior d'arancio, and cinnamon. Mix with a wooden spoon or whisk until all ingredients are combined.
Once the rice mixture has cooled completely, add it to the ricotta mixture, slowly, a few spoons at a time. Mix with a wooden spoon until the rice is fully incorporated into the mixture. Set the filling aside.


To assemble:

Preheat your oven to 350 degrees. Spray a 9 inch springform pan with baking spray or grease with shortening.
Roll the dough out on a lightly floured surface into a 12 inch circle about 1/4 inch thick. Roll the dough up onto the rolling pin and unfurl it over the pan, allowing the excess to hang off the sides. Pour the filling into the crust and trim the excess dough. On a lightly floured surface, roll out the excess though onto a 1/8 inch thick circle. With a ravioli cutter, cut out 1 inch strips and place them in a lattice pattern over the filling, pressing the edges slightly to add here. Trim the excess dough.
Bake the pastiera for approximately 60 minutes, or until edges are golden. Let the pastiera cool and come to room temperature before cutting.