Neapolitan Spaghetti Pie
This recipe brings back memories, it is a Spaghetti Pie that accompanied many family activities and one that I would make for my Mom. The recipe is versatile and can be made with only cheese too. We ate this cold, room temperature or right from the frying pan. Through the years I have made this for my family and friends and even the most skeptical of eaters, have learned to love this dish....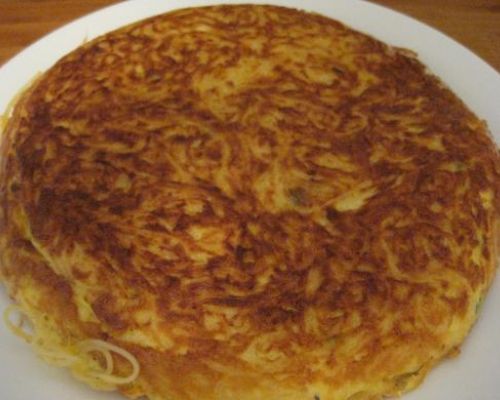 Ingredients
For 4 Person(s)
For the Pasta:
1

pound

spaghetti, cooked and drained

1

teaspoon

extra virgin olive oil

4

strips uncooked bacon, diced

1 1/2

cups

chopped onion

1

teaspoon

minced garlic

6

large eggs

1

cup

whole milk ricotta cheese

1/2

cup

milk

3/4

cup

freshly grated Parmesan cheese

2

tablespoons

chopped fresh parsley

1

tablespoon

salt

1

teaspoon

freshly ground pepper
Directions
Cook spaghetti in a large pot of boiling salted water until tender but firm. Drain and refresh with cold water.

Heat oil in a large nonstick skillet over medium heat. Add bacon and cook until browned. Add onions and cook, stirring occasionally, until golden, 10 to 12 minutes. Add garlic and cook until fragrant, about 1 minute. Transfer mixture to a small bowl and let cool slightly. Wipe out pan.

Whisk together eggs, ricotta cheese and milk in a large bowl. Stir in the onions, Parmesan, parsley, basil, salt and pepper. Add spaghetti and mix all ingredients together.

Add a thin layer of olive oil to coat pan and place over medium heat. Pour in mixture and distribute evenly in pan.

Cook until underside is golden, moving pan around on burner to ensure even cooking, about 6 minutes. Invert a large platter over skillet, grasp platter and skillet with oven mitts and carefully turn over. Lift off skillet and re-coat pan with a small amount of olive oil.

Slide mixture back into the skillet and cook until bottom is golden, cover and allow the pie to cook all the way through till firm inside.

Slide spaghetti pie onto a platter.
Recipe Notes
You can split the mixture and make two smaller pies. I find the pie cooks all the way through this way and is easier to handle and serve.
Reviews
Thursday, 08 September 2016
I'm confused - it looks delicious but the ingredients list "1/2 tomato sauce". What does ...
See Full Review >>
- bswee109
Thursday, 08 September 2016
Not only did it did not give the measurement for the sauce they don't say where the sauce is used. I...
See Full Review >>
- paulydel