Brodetto di Merluzzi with Cut Spaghetti - Whiting Soup
Whiting Brodetto: a very light and delicate soup that cures all your ailments served with cut spaghetti.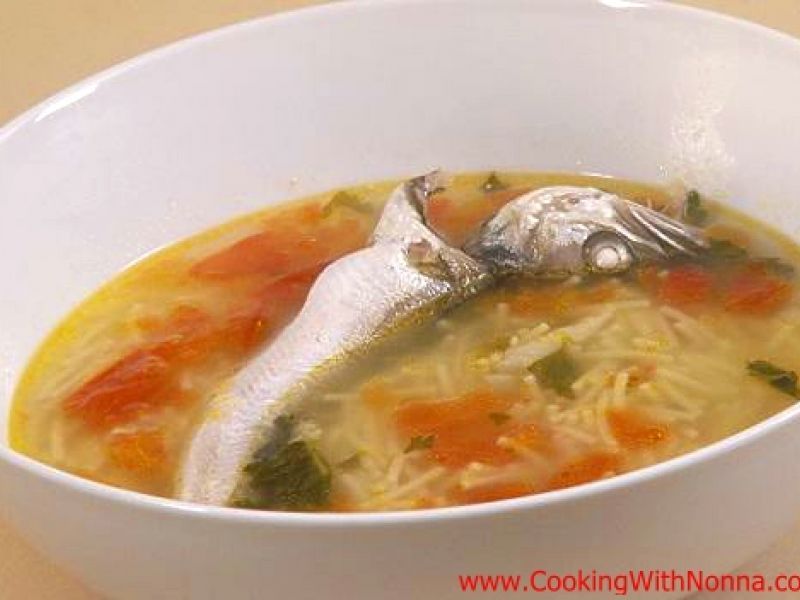 Ingredients
For 4 Person(s)
For the Brodetto:
1

pound

cut spaghetti

2

pounds

whiting - cleaned and gutted

4

tablespoons

extra virgin olive oil

4

cloves garlic - minced

4

plum tomatoes cut in pieces

fresh parsley
Directions
Clean the fish well - Nonna leaves the heads on... you do what you prefer.

In a pot put together: 3 quarts of water, olive oil, garlic, tomatoes and the parsley.

Bring everything to a boil and let it boil for about 15 minutes.

Add the merluzzi and cook for another 10 minutes.

Separately cook pasta, Nonna always uses cut spaghetti... you can use any pasta that you prefer.

Mix the pasta with the soup and serve.
Categories:
Nonna Romana Sciddurlo
,
First Course Recipes
,
Fish Recipes
,
Puglia Recipes
,
Easy Recipes
,
All Recipes
,
Christmas Recipes
,
Soup Recipes
,
Merluzzi-Whiting Recipes
,
Zuppa di Pesce Recipes
,
Christmas Fish Recipes
,
Good Friday Recipes
,
Diabetic First Courses Recipes
,
Heart Friendly First Courses Recipes
,
Gluten Free First Courses Recipes
,
Mediterranean Diet First Course Recipes
,
Pastina Recipes
Reviews
Thursday, 14 December 2017
Very healthy! My mom made this for us. If you cook with the heads on , there is a secret in the head...
See Full Review >>
- kitty123
Thursday, 14 December 2017
WOW!!! Kitty... next time will look for it! :)
- rossella rago
Thursday, 14 December 2017
right now I am so excited to see all these familiar recipes..My gramma was from Bari just like Nonna...
See Full Review >>
- Jenfragram