Penne with Zucchini and Pancetta
I love the flavors in this quick and easy pasta. The red onions give a wonderful sweetness to this dish and the flavorful salty pancetta add a wonderful punch. In fact there is no added salt in this recipe! This recipe can easily be made lighter by swapping the pancetta with turkey bacon!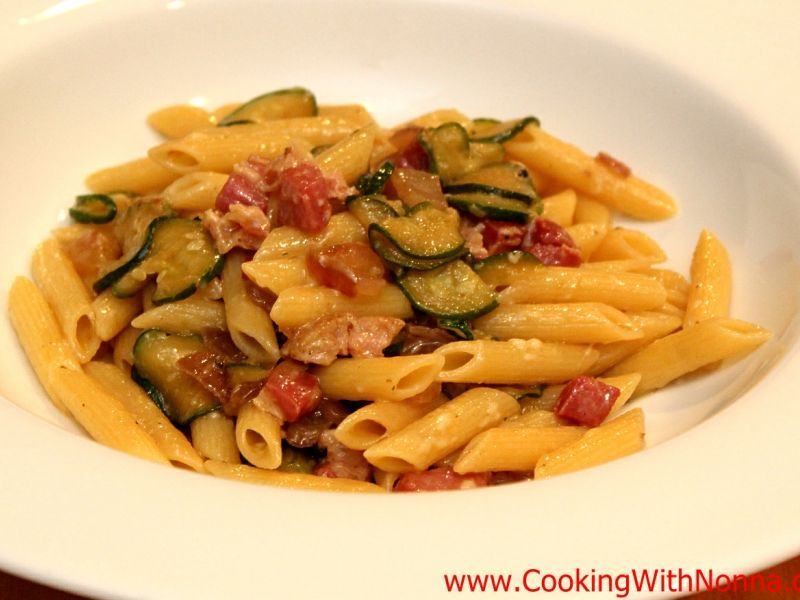 Ingredients
For 1 Person(s)
For the Pasta:
1

pound

Penne pasta

2

cups

sliced zucchine

1/2

cup

pancetta cut into 1/2 inch cubes

1

medium red onion chopped

3

tablespoons

extra virgin olive oil

4

teaspoons

Pecorino Romano cheese

fresh black pepper
Directions
In a medium skillet heat the olive oil and sauté the pancetta till crispy (about 7-10 minutes). Remove from the pan and set aside leaving the oil and the rendered fat from the pancetta in the pan.

In the same pan add the red onion and sauté until soft. Add the Zucchine slices and cook another 5-7 minutes.

In the mean time cook the pasta and add a half a cup of starchy water to the Zucchine and cook another 2-3 minutes. Add the pancetta back into the skillet.

Cook the pasta until al dente and add it into the skillet and toss for 1 minute. Turn the heat off and add the cheese and black pepper and toss until completely incorporated.