Polpettone di Tacchino - Turkey Meat Loaf
Turkey Meat Loaf: Every so often, I like to reinvent an old Italian recipe into a healthier version. This is the result...and very tasty also!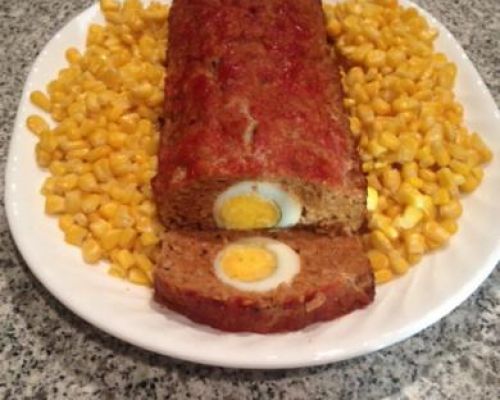 Ingredients
For 6 Person(s)
For the Meatloaf:
1 1/2

ground turkey meat

3

slices of multigrain bread, crumbled into fresh breadcrumbs

1/2

cup

quick oats

1

cup

chicken stock

1/2

cup

chopped red peppers

1/4

cup

ketchup

3/4

of an envelope of Lipton Beefy Onion Soup mix

3

hard boiled eggs

ground pepper

1

bag of frozen spinach, cooked, drained and chopped
Directions
Mix all the ingredients above, except the hard boiled eggs.

If you like, you can add the spinach also. I left them out in this picture because my youngest daughter does not like spinach.

Let the mixture sit a few minutes.

Meanwhile, butter a loaf pan.

Use a little more than half the mixture to line the bottom of the loaf pan.

Place the 3 hard boiled eggs in the middle of the loaf, side by side lengthwise.

Cover with the remaining mixture, making sure the eggs are covered and sealed inside.

Drizzle ketchup on top of meatloaf, in a zig-zag pattern

Bake for 45 minutes to an hour.

Shut off oven and let the meatloaf sit for a few minutes before serving.
Recipe Notes
This meatloaf makes a great presentation, especially with kids. The egg peaking out of the center is a nice surprise for them! The fact that it has healthy ingredients is an added satisfaction for parents. :)
Reviews
Thursday, 14 December 2017
It was easy to make and very tasty
- feltrin