Raspberry Almond Pasta Frolla Hearts
Raspberry Almond Pasta Frolla Hearts for all the Valentines in your life.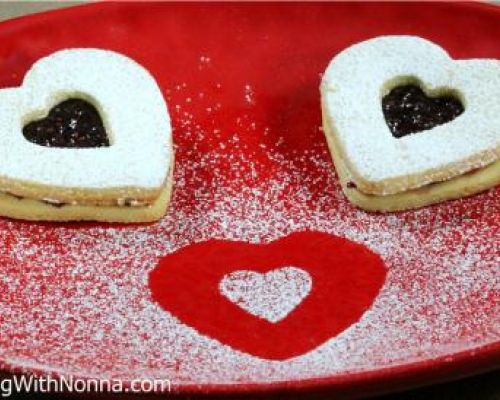 Ingredients
For 1 COM_YOORECIPE_SERVING_TYPE_COOKIES
For the Cookies:
2

cups

all purpose flour

8

ounces

butter (softened)

2/3

cup

granulated sugar

1

teaspoon

vanilla extract

1/2

cup

peeled almonds (you can use whole or slivered. As long as they're peeled)

1/2

teaspoon

almond extract

1

lemon, zest only

2

egg yolks

1 1/2

cups

raspberry jam

sugar for decorating
Directions
Place the almonds in a food processor and process for about 1 minute.

In a stand mixer combine the butter, sugar, zest and vanilla and mix until light and fluffy. About 5 minutes.

Add in the ground almonds and almond extract and mix. Add in the egg yolks one at a time and mix until combined.

Add the the flour and mix until the dough just starts to come together.

On a clean work surface shape the dough into a large disk. Divide the disk in half and wrap each piece in plastic wrap. Refrigerate for at least 1 hour or until firm.

Preheat oven to 350 degrees.

Line baking sheets with aluminum foil.

On a lightly floured surface roll out the first disk to about 1/4 inch, using rolling guides if necessary. Cut out hearts with a 3 inch cookie cutter. Keep rolling out the extra dough and cutting out more cookies. This works best when the dough is very cold so feel free keep refrigerating it if it becomes too soft.

Transfer the hearts to the foiled lined baking sheets and chill them in the refrigerator for about 10 minutes before baking to avoid shrinking.

Roll out the second piece of dough the same way. Cut out 3 inch hearts again and using a 1 inch heart cut out a smaller heart from the center. Transfer to the foil lined baking sheets and chill before baking.

Bake for 10 minutes. Cool completely.

Sift confectioners sugar over the hollow cookies.

Spread jam over the whole cookies and cover with a hollow cookie.