Sauted Escarole and Cannellini Beans
Sauted Escarole and Cannellini Beans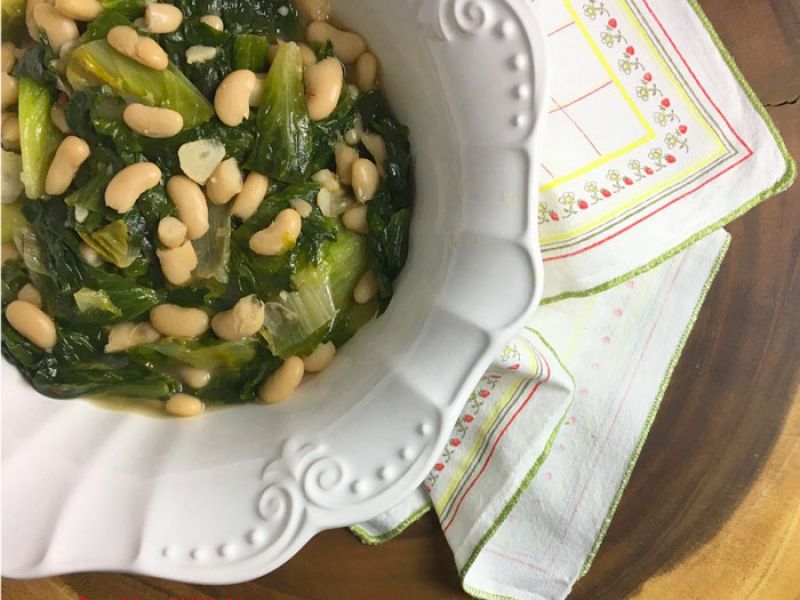 Ingredients
For 4 Person(s)
For the Escarole:
1/4

cup

extra virgin olive oil

3

garlic cloves, sliced

3

anchovy fillets (optional)

pinch of red pepper flakes

1

large head of escarole, washed, trimmed and cut into 1 1/2 inch strips

3/4

cup

chicken broth

16

ounces

cannellini beans, rinsed
Directions
Put a large saute` pan with a lid over a medium flame and heat the oil. Add the garlic and cook for about 30 seconds. Add the anchovy and red pepper flakes and saute` until the anchovy breaks down.

Add the escarole to the pan and stir until the wilted, about 2 minutes.

Add in the chicken broth and beans and place the lid on the pot. Cook for about 10 minutes or until some of the liquid is reduced.

Uncover and cook for an additional 2-3 minutes while stirring with a wooden spoon.
Categories:
Side Dish Recipes
,
Easy Recipes
,
All Recipes
,
Christmas Recipes
,
Thanksgiving Recipes
,
Easter Recipes
,
Cooking with Rossella
,
Valentine's Day Recipes
,
Mother's Day Recipes
,
Father's Day Recipes
,
Valentine's Day  Recipes
,
Diabetic Appetizer Recipes
,
Heart Friendly Appetizers Recipes
,
Gluten Free Appetizer Recipes
,
Mediterranean Diet Appetizer Recipes
,
Thanksgiving Appetizers and Sides Recipes
,
Christmas Appetizer Recipes
,
Easter Appetizer and Side Recipes