Sauteed Broccolli Rabe
Sauteed Broccoli Rabe: Add some bold Italian flavor to your dinner table. The recipe doubles easily.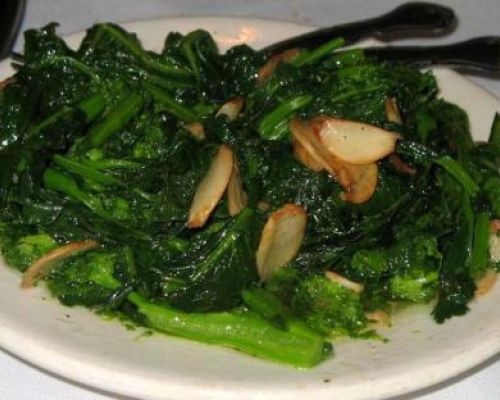 Ingredients
For 4 Person(s)
For the Rabe:
4

pounds

broccoli rabe (rapini)

2

tablespoons

lightly toasted pinoli or pine nuts, toasted (optional)

1/4

cup

extra virgin olive oil

garlic cloves, chopped

1/2

teaspoon

crushed red pepper flakes

salt
Directions
In a large pot (6-8 quart size), fill 3/4 way with cold salted water. Bring water to a boil.

While water is coming to a boil, trim the large woody portions of the stems from the broccoli rabe. Place large bunches into the boiling water.

Blanch the broccoli rabe until crisp tender, about 2 to 3 minutes per bunch.

Transfer the broccoli rabe to a large bowl of ice water to cool. Reserve about 1/4 cup of the cooking liquid. Drain the cooled broccoli rabe and set aside.

Heat the olive oil in a heavy large skillet over medium heat. Add the garlic and red pepper flakes, and sauté until the garlic is golden, about 1 minute.

Reduce heat to medium-low. Add the broccoli rabe and toss to coat. Add the reserved cooking water, and cook until the broccoli rabe is heated through and the stems are tender, about 4 minutes.

Season with salt, to taste.

Serve immediately tossing the broccoli rabe with the toasted pine nuts, is a matter of taste.

You can also serve with rigatoni, ziti or your favorite pasta.
Categories:
Side Dish Recipes
,
Easy Recipes
,
All Recipes
,
Christmas Recipes
,
Thanksgiving Recipes
,
Easter Recipes
,
Valentine's Day Recipes
,
Broccoli Rabe Recipes
,
Super Bowl Recipes
,
Mother's Day Recipes
,
Father's Day Recipes
,
Memorial Day Recipes
,
4th July Recipes
,
Labor Day Recipes
,
Summer Appetizer-Side Recipes
,
Diabetic Appetizer Recipes
,
Heart Friendly Appetizers Recipes
,
Gluten Free Appetizer Recipes
,
Vegetarian Appetizer Recipes
,
Vegan Appetizer Recipes
,
Mediterranean Diet Appetizer Recipes
,
Thanksgiving Appetizers and Sides Recipes
,
Christmas Appetizer Recipes
,
Easter Appetizer and Side Recipes
Reviews
Thursday, 08 September 2016
I love this old family favorite. The addition of some lemon juice and touch of freshly grated nutmeg...
See Full Review >>
- Tivadoc