Sbriciolata Pasqualina - Easter CrumblePie
When you want to surprise your family and friends with an outstanding dessert for Easter (or anytime), you can make my Sbriciolata (Italian for Crumbled). The filling has ricotta, the traditional ingredient in Italian Easter pies. The surprise ingredient is the Nutella ....and who doesn't like Nutella?!? :)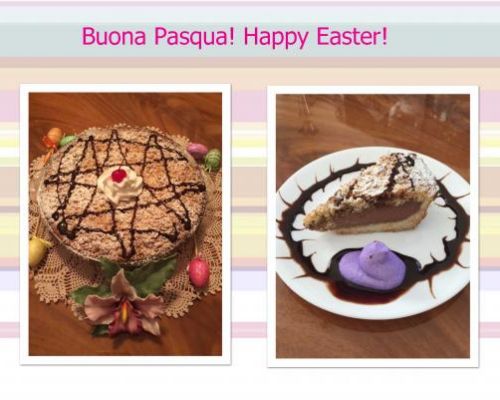 Ingredients
For 8 Person(s)
For the Crust:
3

cups

all purpose flour

2

large eggs

1/2

cup

sugar

8

ounces

butter, cut up into chunks

2

teaspoons

baking powder

pinch of salt
For the Filling:
1

cup

whole milk ricotta cheese

1/2

cup

mascarpone cheese

2/3

cup

Nutella

1/2

cup

sugar

1

egg yolk

1

tablespoon

vanilla extract
Directions
Preheat oven to 375 degrees.

Begin with the filling by mixing ricotta, mascarpone, sugar, vanilla and egg yolk until well blended. Add the Nutella and mix well. Place filling in the refrigerator to rest until ready to use.

Place the flour into a bowl. Add the cut up butter, sugar, eggs, baking powder and salt and mix with your fingertips until you achieve a crumbly mixture. Avoid making a dough ball! If the mixture is too soft as to form a ball, add a little more flour to get it to crumble.

Grease and flour a 9.5" glass pie plate. Carefully sprinkle about 1/2 of the crust crumbles on the bottom and sides of the pie plate. You may use your fingertips to mold and cover the entire surface.

Pour filling into the pie shell and level it evenly. Make sure filling is contained in the pie shell.

Carefully sprinkle remaining crumble mixture over the entire surface of the pie.

Bake for 35 to 40 minutes until lightly golden.

Remove from oven and allow it to cool.

Place the pie in the refrigerator to completely set for at least 4 hours or overnight.

Dust with powdered sugar and decorate according to your taste before serving.
Recipe Notes
Make sure your ricotta is not too soft and watery. Italian homemade ricotta is excellent for this dessert and, if you can find it, you can skip adding the mascarpone. Since American ricotta is less dense than Italian, I added the mascarpone to the recipe to give it more body.