Spaghetti with Scampi
Spaghetti with Scampi... you really have to try these!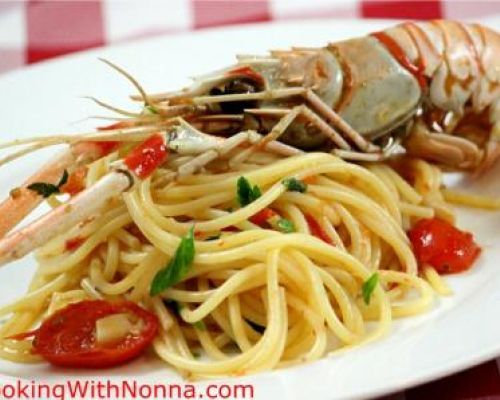 Ingredients
For 4 Person(s)
For the Scampi:
1

pound

Spaghetti

2

pounds

Scampi

1

pound

cherry tomatoes

4

cloves garlic

2

tablespoons

fresh parsley

4

tablespoons

extra virgin olive oil

pepper flakes

salt
Directions
In a large saute` pan add the EV olive oil and the garlic and the red pepper flakes.

Once the garlic begins to turn golden, add half of the cherry tomatoes and half of the parsley.

After 1 minute add the Scampi and cover the pan.

After 2-3 mins. turn the scampi on the other side and continue to cook for about 10 more mins.

Cook the spaghetti in salted water to Al DEnte.

Once the Spaghetti are done, remove the Scampi from the pan and add the spaghetti. Add the remaining half of the tomatoes and the parsley.

Toss for 2 minutes and serve.
Recipe Notes
PS: If you cannot find Scampi, you cn use any other shrimp that you like.
Categories:
First Course Recipes
,
Fish Recipes
,
Puglia Recipes
,
All Recipes
,
Christmas Recipes
,
Thanksgiving Recipes
,
Easter Recipes
,
Valentine's Day Recipes
,
Shrimp Recipes
,
Mother's Day Recipes
,
Father's Day Recipes
,
Christmas Fish Recipes
,
Spaghetti Recipes
,
Valentine's Day  Recipes
,
Good Friday Recipes
,
Mediterranean Diet First Course Recipes
,
Thanksgiving First Course Recipes
,
Christmas First Course Recipes
,
Easter First Course Recipes
,
Seafood Pasta Recipes