Sweet Easter Egg Brioche
This recipe comes from a Calabrese Nonna (Albina). The same dough will make three different kinds of brioches. Traditionally made at Easter time. However, I am often asked to make the chocolate brioches and ham and cheese brioche for other special occasions!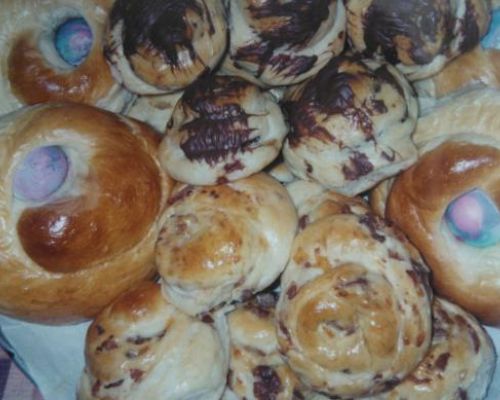 Ingredients
For 10 Serving(s)
For the Brioche:
12

large eggs

12

cups

all purpose flour

3

cups

sugar

4 1/4

cups

warm milk

1/2

cup

shortening (melted)

1/2

cup

brandy

2

envelopes yeast

10

hard boiled eggs (color them with food coloring and let dry)
Directions
Proof yeast with 1/2 cup warm water and set aside.

In a bowl with mixer beat eggs, sugar, shortening and brandy until creamed together.

Reduce speed to low add milk and yeast until combined.

Gradually add enough flour until dough is ready to knead by hand.

On a floured board knead dough by hand adding the remaining flour until a smooth ball is formed.

Place dough into a large greased bowl, cover with plastic wrap and let rise at room temperature over night.

Punch down dough and start forming the brioches.Flour hands, dough will be rather sticky.

Cut dough in 10\"strip, place boiled egg at one end and swirl dough around egg to form brioche.

Place the brioches on a cookie sheet lined with parchment paper and let rise until doubled in size.

When ready to bake preheat oven to 325 degrees.

Brush brioches with egg wash.

Bake for 20 minutes until golden in color.

Cut dough in 5\"strip, place a small solid chocolate Easter egg at one end of the dough instead of the boiled egg.

Once the brioches are baked splash with melted chocolate.

For Prosciutto Cotto & Cheddar Brioches

Cut a good portion of dough.

Knead in 1 cup of cubed bits of prosciutto cotto and 1 cup of grated cheddar (the orange kind).

Once well incorporated cut dough in 5" strip and form brioches. Proceed as above.
Recipe Notes
There is no exact yield for this recipe. It all depends on the size of brioche you wish to make. However, I usually make 10 fairly large brioches decorated with the egg and a dozen each of the chocolate and ham brioches. It is a long process that starts the night before but the reward is delicious!!