Taralli al Primitivo
Crispy Taralli made with Primitivo wine from Puglia to be enjoyed with your favorite cheese or salami and a glass of Primitivo wine!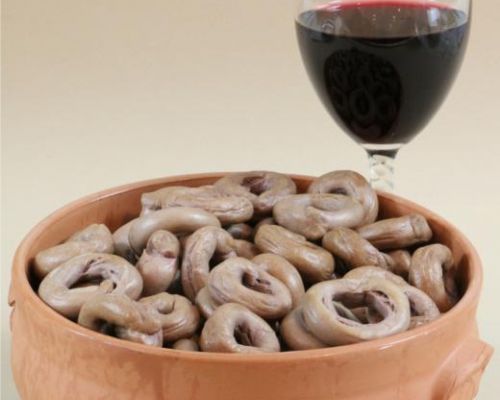 Ingredients
For 1 Person(s)
For the Dough:
1 1/4

pound

all purpose flour

1

cup

Primitivo wine

1/2

cup

olive oil

1/2

ounce

fresh yeast

1/2

tablespoon

salt
Directions
In the bowl of a stand mixer put all the liquids, the yeast and the salt. Mix well.

Add the flour and mix well until all the ingredients are well amalgamated.

Cut a chunk of dough and roll it into an 4 inch stick a little less than 1/2" tick.

Unite and press both ends to form a little round Tarallo.

Let all the Taralli rest for about 15 Mins. covered with a cloth.

Take a few taralli at the time and boil them in water. When you place the taralli in the boiling water they will sink to the bottom of the pan and may tend to stick to the bottom. With a wooden spoon, move them gently to remove them from the bottom. When they come up to the surface, remove them from the water and put them on a white cloth to dry.

After you have boiled all your taralli, place all the taralli on a flat baking sheet and bake them for about 35 mins. at 380F. Keep an eye on them as all ovens have their own personality. Midway thru the baking cycle, turn the taralli to make sure that they cooke evenly on both sides.
Categories:
Nonna Romana Sciddurlo
,
Bread and Focaccia Recipes
,
Puglia Recipes
,
Easy Recipes
,
All Recipes
,
Christmas Recipes
,
Thanksgiving Recipes
,
Easter Recipes
,
Valentine's Day Recipes
,
Super Bowl Recipes
,
Mother's Day Recipes
,
Father's Day Recipes
,
Memorial Day Recipes
,
4th July Recipes
,
Labor Day Recipes
,
Summer Appetizer-Side Recipes
,
Vegetarian Appetizer Recipes
,
Thanksgiving Appetizers and Sides Recipes
,
Christmas First Course Recipes
,
Easter Appetizer and Side Recipes
,
Taralli Recipes