Veal with Peppers and Mushrooms.
Veal with Peppers and Mushrooms.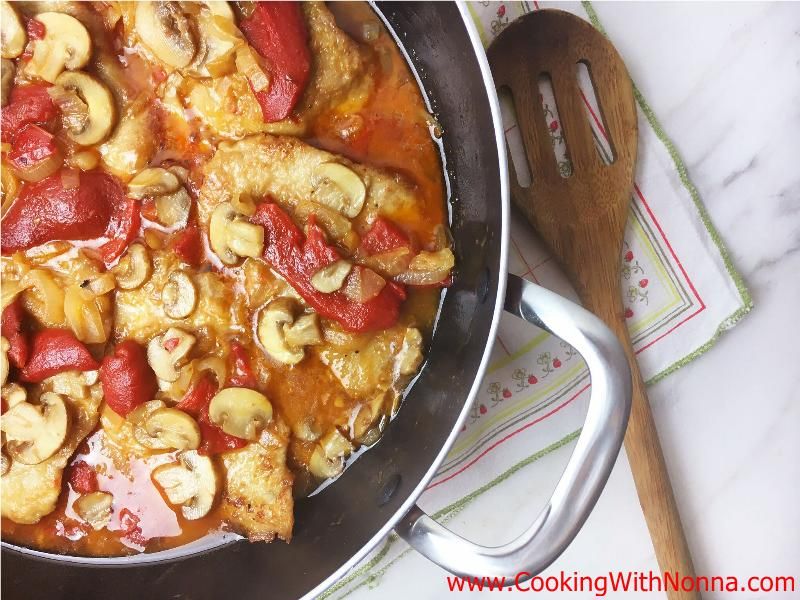 Ingredients
For 4 Person(s)
For the Veal:
1

pound

Veal Cutlets, thinly sliced

salt and fresh black pepper as desired

flour for dredging

3

tablespoons

extra virgin olive oil divided

1

Medium Onion cut into a 1/4-inch dice

3

cloves fresh garlic, sliced

8

ounces

baby portobello mushrooms

12

ounces

roasted peppers, drained

3/4

cup

dry white wine

1

cup

chicken broth

2

tablespoons

butter
Directions
Place the cutlets between two pieces of plastic wrap and pound the cutlets to 1/4-inch thick. Transfer to a plate and season each cutlet with salt and pepper.

Dredge each cutlet in the flour and shake off the excess.

Put a large saute pan over a medium-high flame and heat 2 tablespoons of the oil until shimmering. Cook the cutlets in batches searing them for about 1 minute on each side, do not overcook. Transfer to a plate.

In the same pan add the remaining oil. Add the onions and saute until soft, about 5 minutes. Add the garlic and mushrooms and peppers, wine and broth. Cook until soft, about 4-5 minutes. Add in the butter and return the cutlets to the pan. Cook for 2-3 minutes and serve immediately with crusty bread.
Reviews
Friday, 11 October 2019
Delizioso! Used dry vermouth in place of white wine, turkey tenderloin in place of veal, and added a...
See Full Review >>
- whitney067