Zucchini and Carrots Frittata
Zucchini and Carrots Frittata.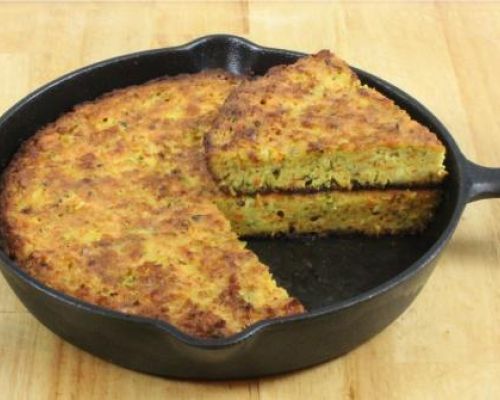 Ingredients
For 6 Person(s)
For the Frittata:
5

zucchini

2

large cattots, chopped

1

cup

grated Pecorino cheese

1/2

cup

plain bread crumbs

1/2

cup

ricotta

1

tablespoons

small capers

5

large eggs

4

cloves garlic - finely chopped

1

tablespoon

fresh mint - finely chopped

1/4

cup

Cup Milk

extra virgin olive oil

salt & pepper
Directions
Chop the carrots finely and set aside.

Slice the zuccine in this round slices and fry them until they turn light golden. Set aside.

In a bowl, add the bread crumbs, cheese, ricotta, garlic, mint and capers and mix well. Add salt and pepper as desired.

In a separate bowl beat the 5 eggs with the milk. Add the eggs to the mixture and mix very well. Add 2 Tbs of EV olive oil and continue mixing.

At last add the zucchine and the carrots and mix well.

Pre-heat the oven to 400F.

In a 9 1/2" cast iron skillet add 1/2 cup of EV olive oil and put on the stove. Once the oil is hot, add the mixture to the pan and quickly spread it evenly.

Immediately transfer the pan to the mid-level of your oven.

Let it cook for 35 minutes (or once the top colors to your liking) and you will have a perfect and crispy Frittata.
Categories:
Nonna Romana Sciddurlo
,
Appetizer Recipes
,
Entree Recipes
,
Side Dish Recipes
,
Puglia Recipes
,
All Recipes
,
Valentine's Day Recipes
,
Frittata Recipes
,
Super Bowl Recipes
,
Mother's Day Recipes
,
Father's Day Recipes
,
Memorial Day Recipes
,
4th July Recipes
,
Zucchini Recipes
,
Vegetarian Appetizer Recipes
,
Vegetarian Entree Recipes
,
Mediterranean Diet Appetizer Recipes
,
Mediterranean Diet Entree Recipes