Hello Friends!
With the cool hints of fall in the air, and with the help of my glorious sponsor, Saeco Espresso, I headed to Seattle for the second year last week to be a part of Seattle Festa Italiana 2012. I always love the opportunity to go to different parts of the country and meet fans and even make some new ones.  I was also super excited to meet Nonna Anna who participated in our Seattle Nonna search this year.  She and I would go on to do a fantastic cooking demo together. My trip to Seattle last year was quite the production since we brought Mamma Angela along too, but she's currently preoccupied becoming Martin Scorsese, so Papino Vito and I packed our bags and headed to the airport together. 

The flight to Seattle from JFK was quite long, and after being in the car on the way to the airport for 10 minutes I came to the startling conclusion that I had left my most valuable piece of travel equipment at home: my airplane neck pillow! Something had to be done about this. So when I got to the terminal I spotted a cute friend that just begged me to take him with me. I named him Carmine, I thought he really looked like a Carmine. 
We got into Seattle late at night and after checking into the Hotel, Papino Vito and I were starving! Luckily I discovered a fantastic Seattle burger chain just across the street from our hotel. "How could I have missed this place last year?!" I said to myself! Dick's Drive In is Seattle's equivalent to chains like In-And-Out Burger in California or Shake Shack in New York.  The Burgers were juicy, the fries thick and crispy, and the shakes were hand dipped.  And Cheap! A burger and fries will set you back a measly $4! The only thing I found funny about Dick's was that they didn't allow you to make any changes to the burgers at all.  If the menu says it has cheese on it and you rather it didn't, then you better order something else! A philosophy that doesn't usually suit a scrappy chick from Brooklyn like myself, but alas, I was in Rome so to speak and I would do as the Romans do.
The next morning it was time for my favorite part of the day in Seattle. BREAKFAST! Luckily just down the street from our hotel on Queen Anne Ave, there was a charming little French Cajun bistro, Toulouse Petit serving some of the best breakfast in Seattle.  I had discovered it last year and was dreaming about their Dungeness Crab Eggs Benedict ever since. 
Enough eating! It was time to get to work! I had the pleasure of visiting good friend Frank Isernio, whom I like to refer to as the Sausage King of Seattle! (Any Ferris Bueller fans out there?) He was kind enough to show me his whole operation and give me some delicious Chicken Sausage to cook with for my food demonstration.   Isernio Sausage is also a sponsor of Festa Italiana Seattle so their sausage proudly graced the buns of the Sausage and Pepper heroes… they were delicious!
Later Papino Vito and I drove to meet Nonna Anna Figurelli Sachs who would be cooking with me the next day.  She came to Seattle by way of Washington, DC and decided to cook with me while  visiting her daughter and four lovely grandchildren in the area.  Right away I knew we would get along swimmingly.  Sure enough, she was just as scrappy as I am and had a wonderful sense of humor.  Nonna Anna was born in Abruzzo, and after a brief stop over in Argentina, her family settled in Maryland and she began to cook for her brothers and sisters.  She is now a CPA and is still as Italian as ever! She's the proud Nonna of 6 grandchildren, 4 who I had the pleasure of meeting. 
All 4 of them attended the Festa sporting fashionable t-shirts that let everyone know who they were rooting for!
The next day was Showtime!! I was excited for my demonstration with Nonna Anna. We would be making Chicken Involtini and a delicious Coffee cocktail using my Saeco Syntia machine that was bright and shiny on stage already set up for me.  I have one of the machines at home and I really missed being able to have my espresso with the touch of a button every morning. Saeco is spoiling me!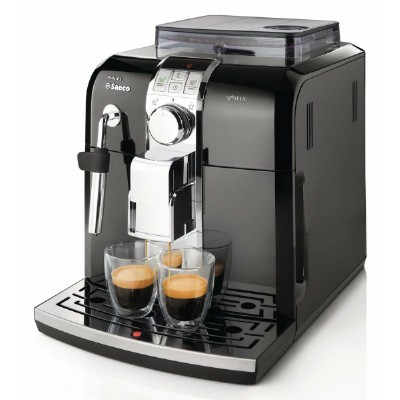 The Chicken Involtini is a recipe that Nonna Anna learned to make from her father and it is highly requested by her family every Sunday and at large family gatherings.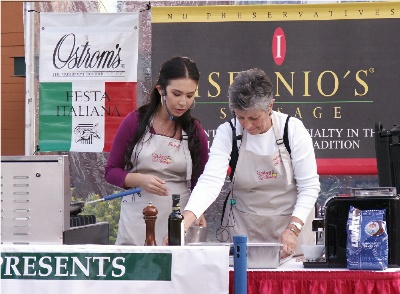 To complement the Chicken Involtini I  chose to make the Coffee Bride cocktail with Nonna Anna because it's ingredients reminded me of this espresso drink I used to have at a bar in my village in Puglia where coffee granita was whipped together with whole milk and a touch of whipped cream and had the most delicate flavor.  At this particular bar it was called an Espressino Freddo or a "little cold espresso".  The Bride cocktail, made with espresso, Cointreau  and whipped cream was similar in texture serving me up a nice dose of nostalgia. And hey, serving it over vanilla gelato didn't hurt either!
I also got to see my buddy Nick Stellino again! He and I always end up doing Festa's together. What a cool dude!
That evening I went in search of last year's Nonna, Nonna Enza Sorrentino and I found her at Mondello Ristorante, a restaurant she runs with her son.  Enza's family is a restaurant machine in the Seattle area. Enza herself will soon open her own place, Isola Bella later this fall.  I was so glad to see her and that she was doing well,  She made me the meal of a lifetime complete with one of the best Cannoli's I've ever tasted.
Day 2 of demos was up and today I would cook on my own.  The menu was simple: Whole Wheat Orrechiette with Broccoli Rape and Chicken Sausage, and my Mamma Angela's Banana Tiramisu.  I was lucky to get some wonderful sausage from Isernio Sausage and the crowd really loved this Pugliese classic recipe.  I was also glad to have Saeco Syntia, Cynthia as I lovingly refer to her, on stage and fired up so I could demonstrate my Mamma Angela's famous Banana Cream Tiramisu` recipe.
 
I had never demonstrated this recipe before.  Probably because she had insisted the recipe stay a secret! You see, my mother is an actress, and one of the perks is that fibbing can come terribly easy to you.  One day many years ago my mother was invited to a party and told to make Tiramisu as a dessert.  Instead of saying "hey, I have no idea how to make Tiramisu, how about I bring some Jello instead?" she decided she would improvise.  My mother was never a dessert person per se, so she never exactly became Betty Crocker, except when it came to this exceptional cake.  When she got to the supermarket to buy ingredients she realized that a traditional Marscarpone Tiramisu would be quite expensive.  So she came up with the idea of using custard cream made of egg yolks, four, milk, and sugar combined with fresh whipped cream to create her base for the cake  layered with delicious espresso soaked lady finger cookies, the texture was so light and fluffy no one really cared to that this particular Tiramisu had no Marscarpone at  all in it and in essence was not really even a true Tiramisu.  The people of Bensonhurst, Brooklyn (and some parts of Northern New Jersey) had declared my mother's Tiramisu the best in the land, or at least the tri-state area. And who was I to disagree?  But, it was my idea to tweak the recipe and add a banana. Wink!

I decided to demonstrate how to make the Tiramisu in wine glasses because I think they work great for dinner parties and I always love finding ways to make desserts individualized. I personally think they taste better that way :)

And just like that it was time to head home again! I packed up Carmine my bear pillow and flew back to New York with Papino Vito in tow looking forward to next year's Festa Italiana Seattle, where I'm really happy to say I've eaten some pretty amazing food and met some wonderful people!
And of course a big Thank You goes to all the Chefs that volunteer at the Festa to make everything go smoothly and prepare all the samples for the audience.  Thanks guys!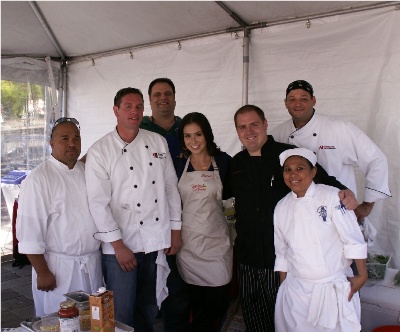 Arrivederci Seattle!