Baccala Salad
Baccala` Salad: a very simple salad for your Christmas Eve dinner as well as on Good Friday. So easy and so good!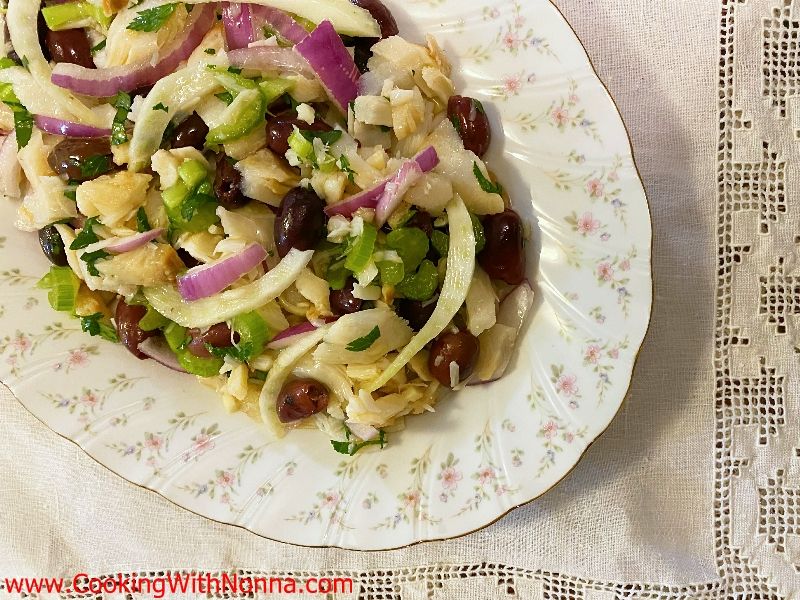 Ingredients
For 2 Person(s)
For the Salad:
1

pound

dry baccala`

1/2

cup

Gaeta or Kalamata olives

4

stalks celery, finely chopped

1

head of fennel

4

cloves garlic, finely chopped

1

small red onion

2

tablespoons

fresh parsley

extra virgin olive oil

salt & pepper
Directions
Before you can cook dried Baccala` you need to remove the saltiness from it. The process to remove the saltiness is to put it in fresh cold water for 12-24 hours, depending on its thickness. Change the water several times during the process.

Boil a pot of water and once the water boils drop the Baccala` in it.

Let it boil for about 5 minutes. A bit longer if the pieces are thick.

Remove the Baccala` from the pan and rinse it under cold water.

With your hands break the Baccala in lumps and put in a bowl.

Add the olives, chopped celery, the fennel sliced thin and the parsley. Mix well.

Add the red onion sliced very fine and the chopped garlic.

Add salt & pepper s desired.

Add 1/2 cup of EV olive oil and the juice of 1 large lemon.

Toss well, cover and refrigerate for 2 hours.
Reviews
Monday, 23 December 2019
I don't know why there are 3 stars, especially when they are putting their own recipes in the review...
See Full Review >>
- Massarone
Thursday, 14 December 2017
Making this today for meatless Friday.My Aunt midge made this every Christmas Eve.loved it!
- Stefanc
Thursday, 08 September 2016
I\'ve been wanting a simple Baccala recipe. I will try this. Sounds delicious. Thanks:)
- AllyD
Thursday, 08 September 2016
My family LOVED this last Christmas so much so I am making it again this year!! This salad along wit...
See Full Review >>
- fitfreak3
Thursday, 08 September 2016
This recipe sounds and looks good. I guess that mine is much simpler. I just do the Baccala and just...
See Full Review >>
- spend1us
Thursday, 08 September 2016
Extremely easy and good tasting Thank you
- bcalabro1