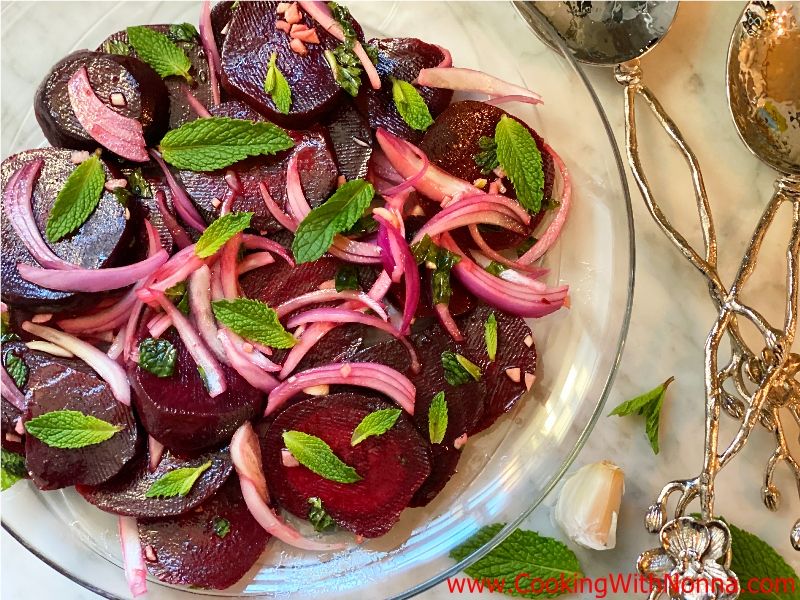 Ingredients
For 4 Person(s)
For the Salad:
1

pound

Beets, about 3-4 medium beets, washed and scrubbed

1/4

cup

extra virgin olive oil

1

small red onion, sliced

2

cloves garlic, minced

1/4

cup

fresh mint leaves, minced

1/2

teaspoon

salt

1/4

teaspoon

black pepper

3

tablespoons

red wine vinegar
Directions
Place whole beets in a medium to large saucepan and cover with salted water by 2 inches.

Bring to a boil and simmer, covered and cook until beets are fork tender, about 30-45 minutes, depending on beet size.

Remove beets as they're done and immediately plunge in ice water to easily slip off skins.

Take the cooled beets and place them in a paper towel. Cradle the beets in your hands to remove the skins. Slice the beets into round slices about 1/2 inch thick and transfer to a large mixing bowl.

Add the remaining ingredients to the bowl and toss to combine. Let the salad marinate in the refrigerator for at least 30 minutes before serving.