Farro and Arugula Salad
Farro and Arugula Salad... and with cubes of Asiago Cheese.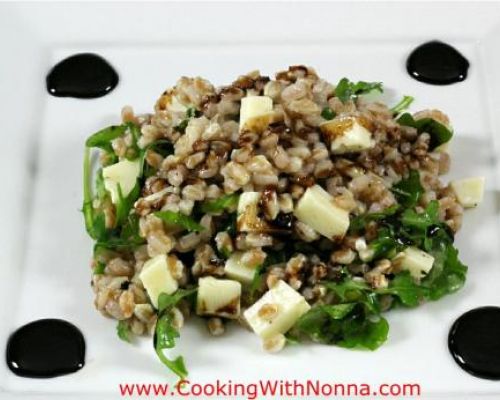 Ingredients
For 2 Person(s)
For the Farro:
1/4

pound

farro

1

cup

fresh arugula

1/4

pound

Asiago Fresco cheese - cubed

of 1 Orange

extra virgin olive oil

salt & fresh black pepper

1/4

pound

homemade Gastride
Directions
Cook the farro in salted water for about 30 mins. or according to the instructions on the package. Drain and let the farro cool completely.

Put the farro in a bowl, add about 2 Tbs of EV olive oil and toss.

Break the arugula in half by hand and add to the bowl. Mix well.

Add the Asiago cheese and mix well.

Add the juice of the orange and mix well.

Add salt and fresh black pepper as desired and plate.

Drizzle the salad with Gastrite and serve.

You can make the Gastride by slowly boiling 1/2 cup of balsamic vinegar and by adding 1 Tbs of sugar. Let it slowly boil until it reduces to about 1/2 the volume.