Liver and Onions
A tasty meal that is a good source of iron!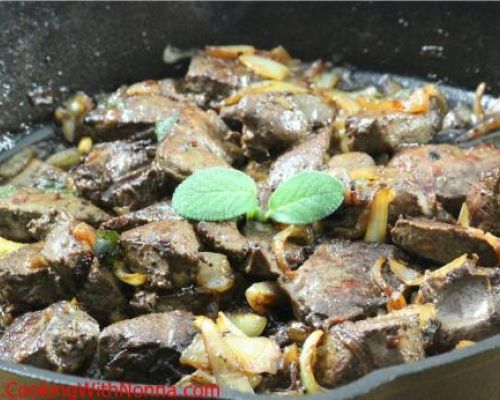 Ingredients
For 2 Person(s)
For the Liver:
3

tablespoons

extra virgin olive oil

2

tablespoons

butter

2

medium

onions

peperoncino, as desired

1

lemon, juiced

4

sage leaves

1

pound

beef liver

salt, as desired
Directions
Wash the liver, pat dry it and cut it in pieces of 1 1/2 inch by 1 1/2 inch.

In a saute pan, add a tablespoon of extra virgin olive oil and sear the liver on all sides. Remove the liver from the pan and set aside.

In the same saute pan add 2 tablespoons extra virgin olive oil and the butter. Start the flame at medium.

Once the butter has melted add the onions and the peperoncino, as desired.

Let the onion become translucent and add the lemon juice and the sage leaves.

Cook for 1 minute and add the liver. Mix well and let the liver cook for about 10 minutes at medium flame.
Reviews
Thursday, 08 September 2016
Yum! This tasted so much better than the floured and fried-til-charred Midwestern liver and onions I...
See Full Review >>
- PurplePigeon83