Marinated Merluzzi - Whiting
Leftover fried Merluzzi (Whiting)?... No problem... marinate them!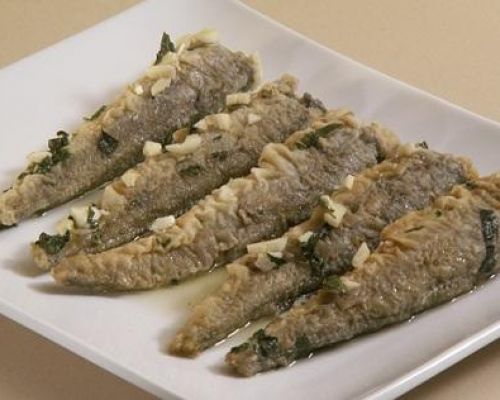 Ingredients
For 4 Person(s)
For the Merluzzi:
2

pounds

cleaned merluzzi - whiting

all purpose flour

2

tablespoons

fresh mint

5

cloves of garlic

1/2

cup

red wine vinegar

olive oil for frying

salt
Directions
Tap dry the Merluzzi with paper towels

Dip the Merluzzi in flour

Fry them in hot oil. Once the flour turns deep golden... they are done.

Let the merluzzi cool off.

In a small bowl, put 1/2 cup of wine vinegar, fresh chopped mint and fresh chopped garlic.

Pour the vinegar over the Merluzzi, cover and store in the refrigerator for 24 hours. From time to time turn them so that the vinegar will be absorbed evenly by all the Merluzzi.
Categories:
Nonna Romana Sciddurlo
,
Appetizer Recipes
,
Fish Recipes
,
Puglia Recipes
,
All Recipes
,
Christmas Recipes
,
Easter Recipes
,
Merluzzi-Whiting Recipes
,
St. Joseph Day Recipes
,
Mother's Day Recipes
,
Father's Day Recipes
,
Memorial Day Recipes
,
4th July Recipes
,
Labor Day Recipes
,
Christmas Fish Recipes
,
Good Friday Recipes
,
Summer Appetizer-Side Recipes
,
Diabetic Entree Recipes
,
Heart Friendly Entree Recipes
,
Mediterranean Diet Entree Recipes
,
Christmas Appetizer Recipes
,
New Year's Eve Recipes