Oven Roasted Sausage Peppers and Potatoes
During the winter months you can't beat tossing a few things together in a little extra virgin olive oil and seasoning and letting them roast! The flavors really deepen and you get a beautiful char on everything. This dish reminds me of the summer I spent in Calabria at a villa near the town of Tropea where everything had a spice to it. The oil, the sausage and especially the peppers! I wanted to make a dish with a little calabrese flair and the first thing that came to mind was sausage and peppers. I started by pan frying the sausage a bit for a nice sear on the outside. This also makes it easier to cut the sausage into pieces. I used mini sweet peppers because they're bursting with flavor and I love the contrast against the spicy hot sausage. I threw in some sliced baby red potatoes which take on a wonderful buttery quality when cooked and really absorb flavor well. I also added some sweet red onions which remind me of the famous red onions of Tropea and have more flavor than the white or yellow variety.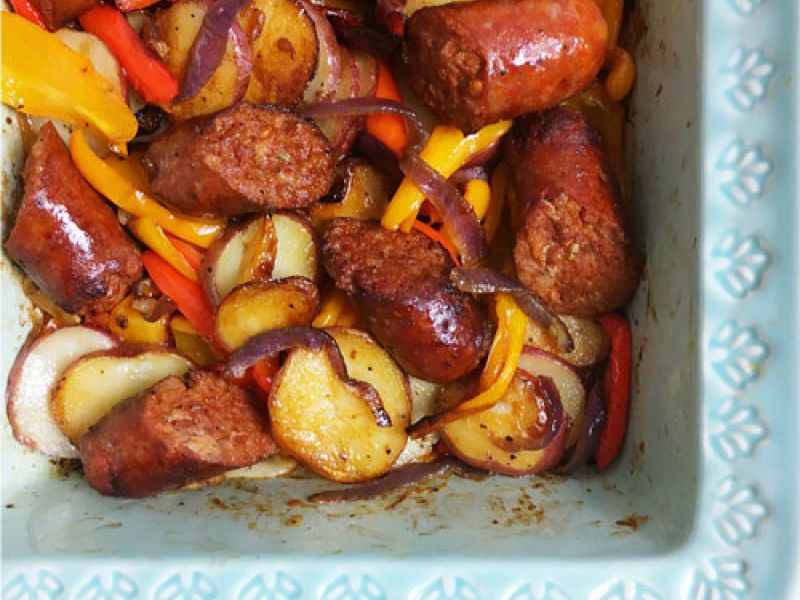 Ingredients
For 4 Person(s)
For the Sausage:
1

pound

hot Italian sausage links

1/2

cup

+ 1 tablespoon extra virgin olive oil, divided

1

pound

baby red skinned potatoes cut into 1/4 inch slices

1

pound

sweet mini peppers, seeds removed and cut into 1 inch strips

1

medium red onion cut into thin slices

8

garlic cloves cut in half

salt and pepper as desired
Directions
Put a large saute` pan over a medium-high flame and heat 1 tablespoon of the oil. Using a fork prick the sausage links all over. Place the links in the saute pan and cook until browned on all sides, about 5-7 minutes. Transfer to a plate and slice the links in half. Set aside.

Preheat the oven to 450 degrees.

In a large mixing bowl toss together 1/2 cup of the oil, sliced potatoes, peppers, onions and garlic. Season with salt and pepper as desired.

Spread the mixture in a large roasting pan or a 13x18 inch baking sheet. Top with the sausage and roast for 30-40 minutes turning halfway though.
Categories:
Side Dish Recipes
,
Meat Recipes
,
Easy Recipes
,
All Recipes
,
Christmas Recipes
,
Thanksgiving Recipes
,
Easter Recipes
,
Cooking with Rossella
,
Super Bowl Recipes
,
Sausage Recipes
,
Mother's Day Recipes
,
Father's Day Recipes
,
4th July Recipes
,
Labor Day Recipes
,
Valentine's Day  Recipes
,
Summer Appetizer-Side Recipes
,
Thanksgiving Appetizers and Sides Recipes
,
Christmas Appetizer Recipes
,
Easter Appetizer and Side Recipes