Passatelli in Beef Broth
Passatelli in Beef Broth, a specialty from the region of Emilia-Romagna.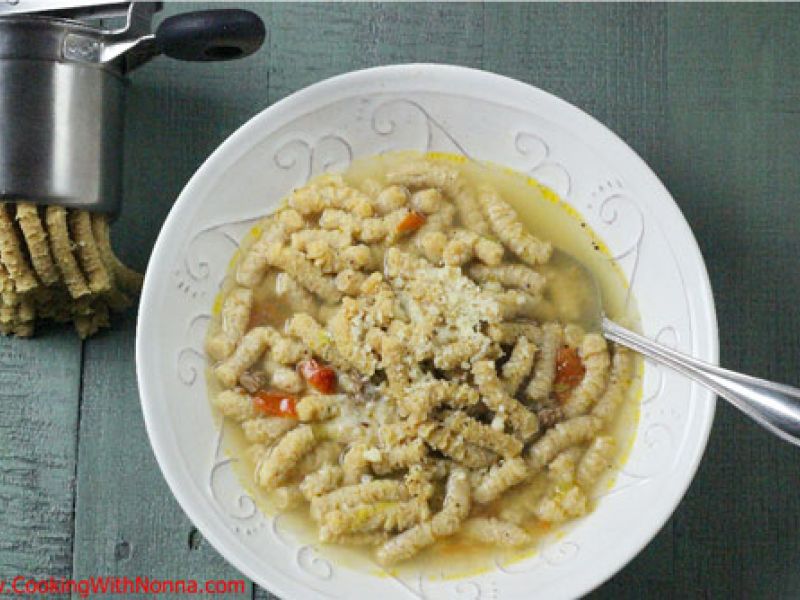 Ingredients
For 4 Person(s)
For the Passatelli:
1/4

pound

grated Parmigiano cheese

1/4

pound

plain bread crumbs

1

lemon, zest only

1/2

teaspoon

nutmeg

1

teaspoon

salt

3

large eggs
Directions
In a large bowl mix the grated Parmigiano and the bread crumbs.

Add the lemon zest, the nutmeg and the salt and mix very well.

Beat the eggs and add them to the bowl. With your hands mix everything well until you have a dough with a firm consistency.

If the mix is too soft, add a bit of bread crumbs. Too hard, add a bit of milk.

Wrap the ball in plastic paper and let it rest for 2-3 hours at room temperature.

Unwrap the ball, take a piece and put it in a potato ricer with large round holes.

Extrude the mix in strings of 1 1/2 inch long.

Meantime you have prepared a beef broth.

Dump the Passatelli in the boiling broth ans once they rise to the surface (1-2 mins) they are done.

Serve with a sprinkle of Parmigiano and fresh black pepper.

PS: Passatelli can be served with any broth that you prefer or even with a tomato sauce or pesto sauce!