Pasta with Escarole & Beans Recipe
Pasta with Escarole & Beans Recipe.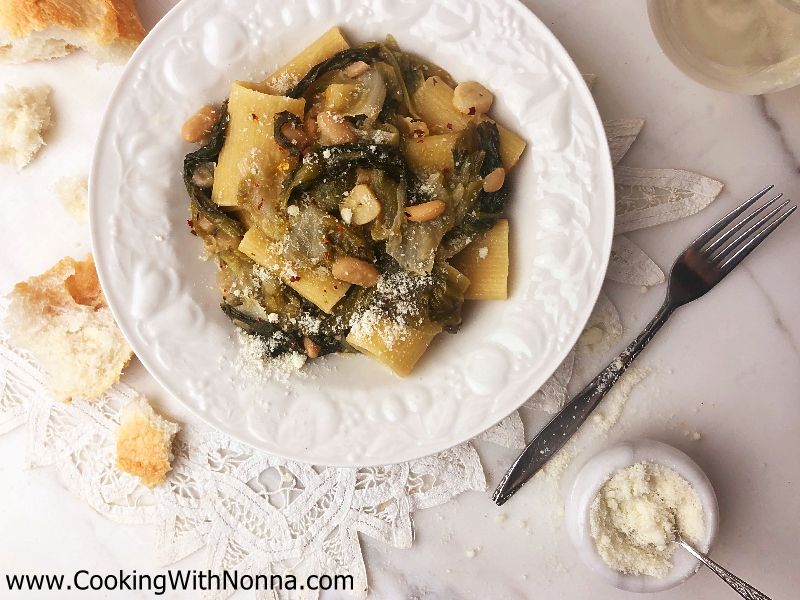 Ingredients
For 4 Person(s)
For the Pasta:
1/4

cup

extra virgin olive oil

6

cloves garlic, sliced

1/4

teaspoon

red pepper flakes

3

anchovy fillets packed in oil (optional)

1/4

cup

dry white wine

1/4

cup

chicken broth

1

head escarole, trimmed, washed and coarsely chopped

1

19oz can cannellini beans, rinsed

salt and pepper as desired

1

pound

Paccheri Rigati

grated Pecorino Romano cheese for sprinkling
Directions
Put a large skillet with a lid over a medium flame and heat the oil. Add the garlic and cook for 30 seconds. Add in the anchovies and cook until they have melted, about 30 seconds to 1 minute.

Add in the wine and cook for 1 minute.

Add the escarole to the pan and cook until the leaves are wilted, about 3-5 minutes.

Add in the beans and using a wooden spoon, mash about half of them.

Add the chicken broth to the pan and lower the flame to a simmer. Cover and cook until the escarole is tender, about 5-7 minutes. Uncover and cook another 2 minutes. Taste for seasoning and season with salt and pepper as desired.

Lower the flame to low while the pasta cooks.

Drop the paccheri into a large pot of generously salted boiling water and cook until al dente.

Drain and add the pasta to the pan. Toss over medium-high heat for 1-2 minutes.

Serve in warm bowls with a sprinkle of grated pecorino romano cheese.