Pizzette Fritte
Pizzette Fritte... these little goodies will be the star of any party and can be garnished with anything you like!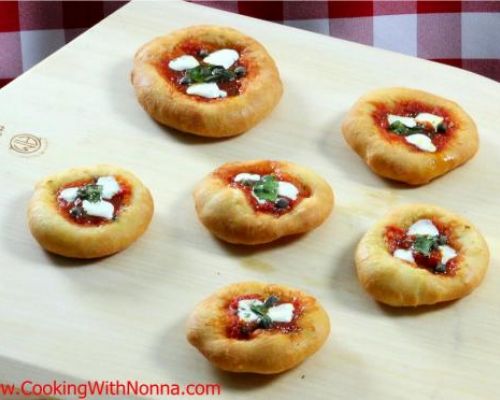 Ingredients
For 1 Person(s)
For the Dough:
2

pounds

all purpose flour

2 1/4

cups

lukewarm water

1

ounce

fresh yeast

4

tablespoons

extra virgin olive oil

1

teaspoon

salt
Condiments:
marinara sauce or fresh tomatoes, chopped

fresh mozzarella

capers

fresh basil

extra virgin olive oil

salt

oil fro frying
Directions
In a large bowl add the flour and make a hole at the center.

In the hole add the warm water. Add the yeast to the water and let the yeast melt.

Add to the water 1 Tbs of salt and 4 Tbs of olive oil.

Mix the entire content until the dough is well mixed and of even consistency. If you have a stand mixer, use it as it will speed up the process.

Put the bowl of doght in a warm place and let it rise for about 2 hours.

Take the dough, roll small balls of dough about the size of a little larger than a golf ball and set them on a tray. Roll all the balls.

Cover the tray and let the dough rise again for about 1 hour.

Make your frying oil hot.

Take each ball of dough, spread it this with the center being flatter than the borders. With a fork puncture the inside of the border to prevent the center from raising during the frying process as you want the pizzette to be a little higher on the border and flat at the center.

Fry the pizzette on both sides until they have a golden color. As they are frying, if you notice that the center is swelling, push the center down with a spoon.

Pre-heat the oven to 450F.

Take each pizzetta and add a teaspoon of marinara sauce. Add some fresh mozzarella, a few capers, some oregano and a sprinkle of olive oil.

Bake the pizzette for 5 minutes until the mozzarella has melted.
Recipe Notes
PS: The condiments for the Pizzette can be anything that you desire. Let your imagination take over in this department!