Rigatoni alla Caprese
Rigatoni alla Caprese... the true colors and flavors of summer!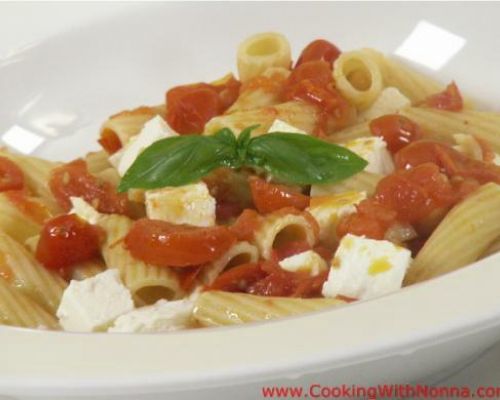 Ingredients
For 4 Person(s)
For the Pasta:
1

pound

Rigatoni pasta

1

pound

fresh Tomatoes, diced

1

pound

fresh mozzarella diced

4

cloves garlic

3

leaves fresh basil

4

tablespoons

extra virgin olive oil

black pepper and peperoncino
Directions
Get the Rigatoni Pasta

HERE

In a large pan saute` the garlic until it turns golden.

Add some hot pepper as desired and the tomatoes.

After a few minutes cut the basil leaves in half and add to the pan and cook for 15 minutes.

Boil the pasta to an Al Dente consistency and pour into the pan.

Toss the pasta for 2 minutes. Add 3/4 of the mozzarella and plate.

Garnish with the remainder of the mozzarella and a sprinkle of fresh black pepper as desired.
Categories:
Nonna Romana Sciddurlo
,
First Course Recipes
,
Italian Pasta Recipes
,
Campania Recipes
,
Puglia Recipes
,
Easy Recipes
,
All Recipes
,
Valentine's Day Recipes
,
Rigatoni Recipes
,
Mother's Day Recipes
,
Father's Day Recipes
,
4th July Recipes
,
Tomato Recipes
,
Basil Recipes
,
Easy Pasta Recipes
,
Vegetarian First Course Recipes
,
Mediterranean Diet First Course Recipes
,
Caprese Style Recipes
Reviews
Thursday, 08 September 2016
I make this but I do not cook it I cut up Italian Plum Tomatoes, I add about 6 cloves of finly chopp...
See Full Review >>
- rosegrandma39
Thursday, 08 September 2016
I am glad you show Nutritional Analysis. Just found out I have diabetes ad need to watch what I eat....
See Full Review >>
- cmgted