Rigatoni with Broccoli, Pancetta and Toasted Breadcrumbs
Rigatoni with Broccoli, Pancetta and Toasted Breadcrumbs.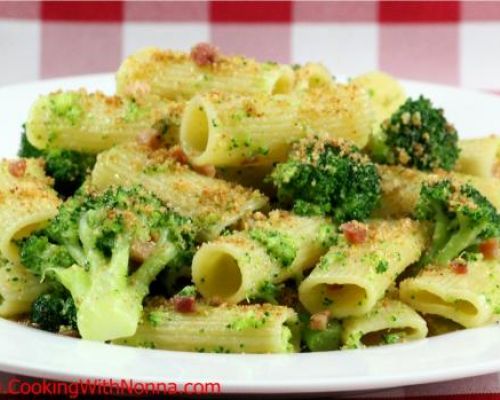 Ingredients
For 4 Person(s)
For the Pasta:
1

cup

plain breadcrumbs

1

pound

rigatoni

1

pound

broccoli florets

4

garlic cloves, sliced

5

tablespoons

extra virgin olive oil

4

ounces

pancetta, cut in small cubes
Directions
In a small saute` pan on low heat 2 tablespoons of the oil and cook the breadcrumbs until they begin to brown. Immediately transfer to a separate bowl and set aside.

Drop the pasta into the salted boiling water and cook halfway through, approximately 5-6 minutes. Drop in the broccoli florets.

In a large saute` pan heat the rest of the oil and saute` the garlic for about 30 seconds. Add in the pancetta and saute` until slightly crisp, about 5 minutes. Scoop about 1 Cup of pasta water and set aside. Add about 2-3 tablespoons of the pasta water from the boiling pot to the saute` pan.

Once the rigatoni are slightly harder than al dente drain the pasta and broccoli and add them to the saute` pan. Toss together for about 1-2 minutes adding a little pasta water if it seems dry.

Top with breadcrumbs and serve in warm bowls.