Roasted Eggplant with Tomato & Basil
Roasted Eggplant with Tomato & Basil.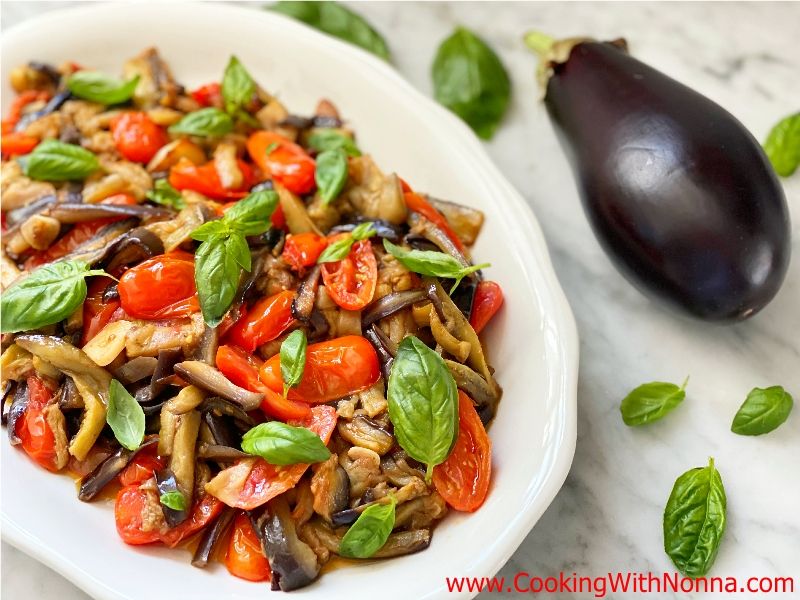 Ingredients
For 6 Person(s)
For the Eggplant:
2

medium eggplant, or 3 Sicilian small eggplant, skin on and cut into strips 2 inches long and half an inch wide.

1/2

cup

extra virgin olive oil, plus more for drizzling

2

teaspoons

salt
For the Tomato & Basil Sauce:
2

tablespoons

extra virgin olive oil

4

cloves garlic, sliced

1

pint

cherry tomatoes, halved

1/2

teaspoon

salt

5

basil leaves, torn
Directions
Preheat your oven to 400 degrees. Line a baking sheet with Parchment Paper.

Spread the eggplant onto the baking sheet and toss in the oil and salt, making sure all the eggplant is well coated. Drizzle a bit more oil over the top of the eggplant and roast until the eggplant is cooked through and soft, about 40 minutes. Toss the eggplant halfway through.

Transfer the cooked eggplant to a colander and allow the excess oil to drain into a bowl for about 10 minutes. Discard the oil.

To make the Tomato & Basil sauce:
Put a skillet over a medium flame and heat the oil. Add the garlic and cook until golden brown and fragrant, about 30 seconds. Add the tomatoes and salt and cook until they begin to soften, about 5-7 minutes. Add the basil and the eggplant to the pan and cook for 10 minutes.

Serve warm or room temperature.