Sausage & Spinach Wedding Soup
Sausage & Spinach Wedding Soup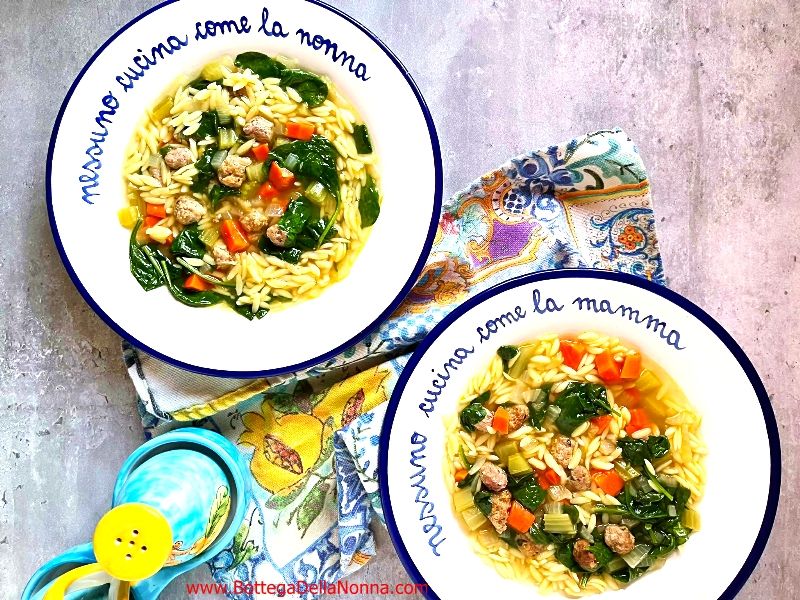 Ingredients
For 6 Person(s)
For the meatballs:
1

pound

hot or sweet Italian Sausage, casings removed

3

cloves garlic, shaved or minced

1/2

cup

grated Pecorino Romano cheese

2

tablespoons

fresh parsley, minced
For the soup:
3

tablespoons

extra virgin olive oil

3

carrots, cut into a 1/4 inch dice

1

large onion, cut into a 1/4 inch dice

3

celery ribs, cut into a 1/4 inch dice

8

cups

chicken broth or water + 2 chicken bouillon cubes

5

ounces

baby spinach8oz rosmarino pasta
Directions
Get the Products featured in this recipe

HERE

In a mixing bowl, combine the Sausage meat, garlic, cheese and parsley. Mix together by hand until well combined.

Roll out small Meatballs about 1/2 inch in diameter. Set aside onto a plate.

To make the soup:Put a large stock pot over a medium flame and heat the oil. Add the carrots, onions and celery and cook until softened, about 5-7 minutes.

Add the broth to the pot and bring to a boil. Add in the meatballs and the spinach. Return the pot to a boil and cook for 10 minutes.

Drop the pasta into a pot of generously salted boiling water. Cook for 2 minutes less than the package instructions.

Add the pasta to a bowl and ladle some of the meatball soup on top. Serve with crusty bread and a generous sprinkle of grated Parmigiano Reggiano cheese.