Shrimp alla Papino
Shrimp alla Papino... marinated and broiled... soo good!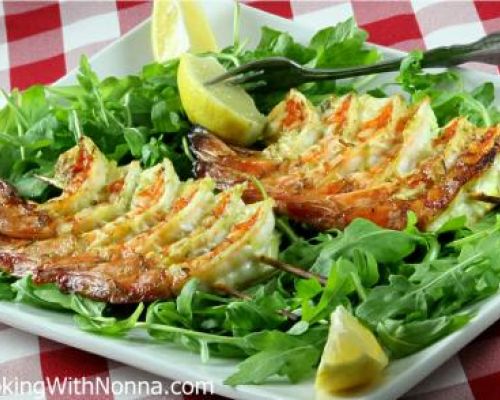 Ingredients
For 2 Person(s)
For the Shrimp:
1

pound

large shrimp, peeled and deveined

3

cloves garlic

1

tablespoon

fresh rosemary

1/4

cup

extra virgin olive oil

1

lemon, juice only

1/4

cup

white wine

red pepper flakes, as desired

pinch of salt
Directions
Put all the shrimp in skewers.

Put all the ingredients above (except the shrimp... of course) in a blender and liquefy them.

Pour the marinade over the shrimp and let them marinate for 2-3 hours in the fridge.

Preheat the oven to 475F.

Bake the shrimp for about 10 mins, depending on the size. Halfway thru the cooking time flip them over.

Finish them under the broiler for 1-2 mins for color.
Categories:
Entree Recipes
,
Fish Recipes
,
Easy Recipes
,
All Recipes
,
Christmas Recipes
,
Thanksgiving Recipes
,
Easter Recipes
,
Cooking with Rossella
,
Valentine's Day Recipes
,
Shrimp Recipes
,
Mother's Day Recipes
,
Father's Day Recipes
,
Christmas Fish Recipes
,
Barbecue Recipes
,
Mediterranean Diet Entree Recipes
,
Thanksgiving Dessert Recipes
,
Christmas Entree Recipes
,
Easter Entree Recipes
Reviews
Tuesday, 24 July 2018
I was surprised that this simple marinade added so much nice flavor to shrimp, easy to whip up too. ...
See Full Review >>
- Jovanna