Spaghetti alla Carbonara
Pasta alla carbonara is a rustic dish typical of Roma prepared with "poor" ingredients and intense flavor. This dish is high in calories. The type of pasta traditionally used are spaghetti but it is also excellent with other types of long pasta or some types of short pasta. The name is derived from Coal - Carbone, a dish eaten by sellers of coal and coal miners. Origin: Lazio, Roma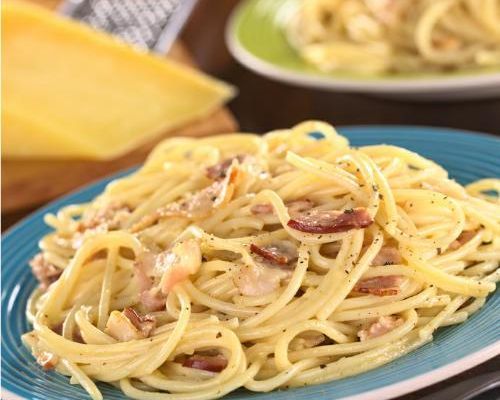 Ingredients
For 4 Person(s)
For the Carbonara:
1

pound

spaghetti

guanciale or pancetta cut in small pieces

3

large eggs

1/4

pound

grated pecorino romano

black pepper

salt

extra virgin olive oil
Directions
boil the pasta in water (4 quarts)

salt water as desired. Boil the pasta al dente

while the pasta is cooking, in a bowl beat well the eggs with a little salt and pecorino and some fresh pepper

in a pan fry the guanciale with a little EV olive oil

when pasta is ready, drain it and quickly add the guanciale along with oil and eggs from the top

toss the pasta immediately and very quickly as the heat of the pasta will cook the eggs

you may also want to toss it on the flame for 1 more min to cook the eggs a little more

garnish with fresh pepper and pecorino
Reviews
Tuesday, 09 March 2021
I followed instructions - comes out perfect every time. Love it!
- ashlee
Tuesday, 13 February 2018
Great recipe. However, I was told that you only use the egg yokes. Your recipe does not say that. a...
See Full Review >>
- tonini612