Nonna Filomenas Italian Love Knots
Traditionally these Italian love knots are flavored with anise, however you can substitute the anise flavor with limone, orange or whatever flavor you desire.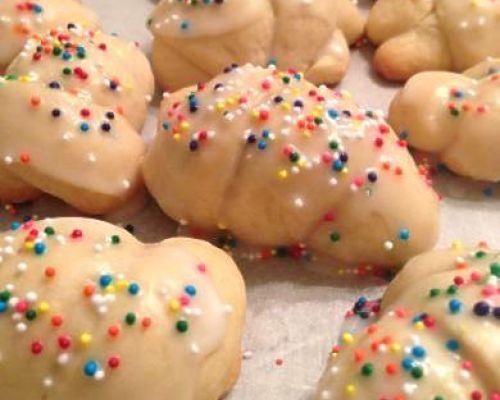 Ingredients
For 6 Dozen(s)
For the Cookies:
6

eggs.

1

cup

sugar

1

teaspoon

anise flavor

2

sticks melted, cooled butter

4

cups

all purpose flour

4

teaspoons

baking powder

1/2

teaspoon

salt

1 1/2

cups

confectioners sugar

or Annisette (quanto basta)

rainbow colored non-pariels
Directions
In a large bowl, cream eggs and sugar.

Add cooled melted butter and anise flavor, mix well.

In a separate bowl, whisk flour, baking powder and salt.

Slowly add the wet ingredients to the dry ingredients.

Dough should be glossy but not sticky.

If dough is too sticky add flour a little at the time.

Pinch off a small golfball size piece of dough.

Roll dough with hands to form a 8" rope.

Bend 1 1/2\" end of rope, then roll bent end over rope until end of rope is reached.

Place on either ungreased or parchment lined cookie sheet.

Be sure to keep 1" between cookies on sheet.

Bake at 350 degrees for about 15 minutes or until lightly golden.

In a small bowl mix confectioners sugar with Sambuca.

Use enough Sambuca so that icing is thick but slightly drippy.

After cookies are cooled, ice with confectioners sugar and flavoring.

Dip top of each cookie into icing then sprinkle with non-pariels.
Recipe Notes
Be careful when adding flavored liquid to confectioners sugar. If too much liquid is added icing will become very thin, very quickly. If too thin, add more confectioners sugar.
Reviews
Saturday, 17 February 2018
These went down very well with the family.. Have yet to try with aniseed flavour, but I love lemon t...
See Full Review >>
- LisCos6
Thursday, 14 December 2017
Congratulations to the winner!
- aranciniamore
Thursday, 14 December 2017
Bella !
- BarbMotto
Thursday, 14 December 2017
My recipe from my Aunt Adeline is almost exactly this recipe but she used a whole little bottle of a...
See Full Review >>
- Pattyyl@aol.com
Thursday, 14 December 2017
sono buono
- bme153
Thursday, 14 December 2017
Made these for my Christmas cookies trays and they are amazing.........a definite keeper and very tr...
See Full Review >>
- Sweetitalian
Thursday, 08 September 2016
My first batch tasted a bit bland so I added another 1 tsp anise extract to the batter (total now 2 ...
See Full Review >>
- TGN
Thursday, 08 September 2016
I tried it and it delicious but I made another batch and included one 8 oz of cream cheese. it was a...
See Full Review >>
- gc061012