Spaghetti with String Beans - Spaghetti con Fagiolini
In the summer, when string beans are in full season, there is nothing better than a dish of spaghetti, fresh tomatoes and fresh string beans.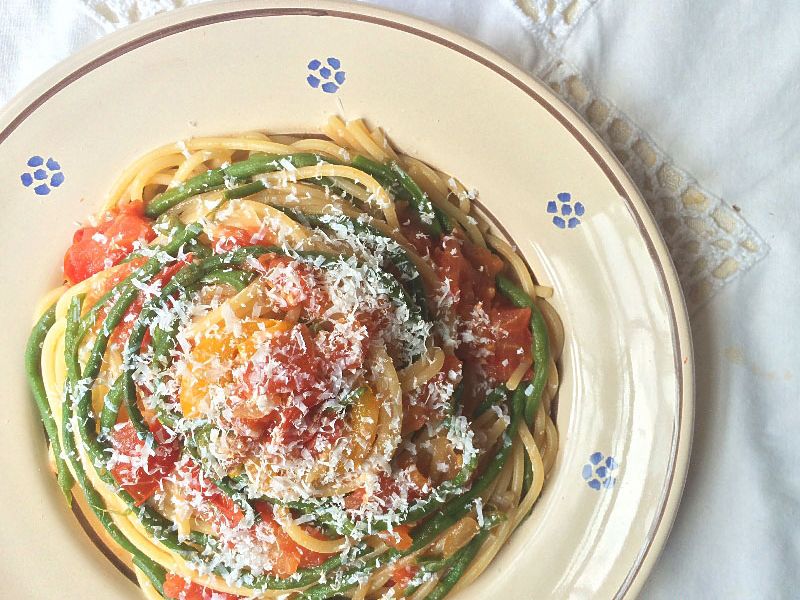 Ingredients
For 4 Person(s)
For the Spaghetti:
1

pound

spaghetti

1

pound

fresh string beans

1 1/2

pounds

fresh tomatoes

1

red, yellow or green pepper

1

small onion

Ricotta Salata

extra virgin olive oil

salt & pepper
Directions
Get the ingredients needed for this recipe

HERE

The string beans illustrated above are a variety that can grow up to 2 1/2 feet long. They have a very particular delicate flavor. If you cannot get these, any other variety will do.

Clean the beans by removing both ends. Then cut them in pieces 6-7 inches long. Wash them well and put them on the side.

Fill a pot with water and wait until it boils.

In pan, put 4 Tbs of EV oil and let it get warm. Chop the onion in small pieces and add to the oil.

Cut the tomatoes in small cubes and once the onion becomes translucent, add the tomatoes to the pan. Also cut the pepper in 4 parts and add to the tomatoes. Add a pinch of salt and let the tomatoes cook for about 8-10 mins. Do not overcook the tomatoes. The less the better.

Once the water comes to a boil, add the string beans.

Let the water come to a boil again and add the spaghetti. Stir well from time to time.

Remove from the water once the spaghetti are Al Dente.

Add the tomato sauce to the spaghetti and beans, mix well and serve.

Garnish with a generous amount of Ricotta Salata and a sprinkle of fresh black pepper.
Recipe Notes
Start with Fresh String Beans!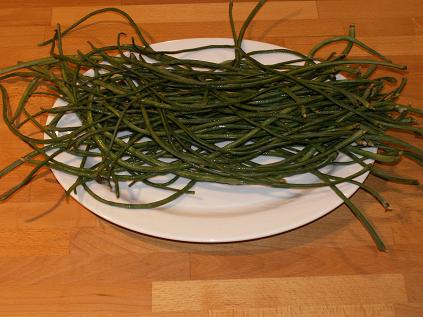 Reviews
Thursday, 08 September 2016
The overall freshness of this dish is the key. I used heirloom tomatoes and wax beans. There is a ...
See Full Review >>
- Lagniappe