Stuffed Paccheri with Porcini, Sausage and Pistachio
Stuffed Paccheri with Porcini mushrooms, Sweet Sausage and Pistachio, topped with Bechamel sauce.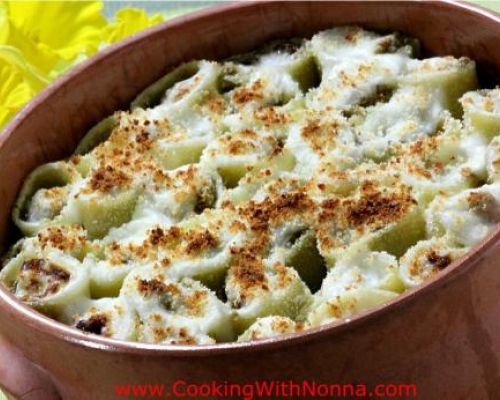 Ingredients
For 4 Person(s)
For the Paccheri:
1

pound

Paccheri

1

pound

sweet sausage (removed from its casing)

1

cup

pistachio

1

cup

grated Parmigiano Cheese (plus extra to sprinkle on top)

3

shallots thinly sliced

1 1/2

cups

whole milk ricotta

1/2

cup

white wine

4

cloves garlic minced

3

tablespoons

extra virgin olive oil
For the Bechamel:
1 3/4

cups

milk

3

tablespoons

unsalted butter

4

tablespoons

flour

dash of nutmeg

salt to taste
Directions
Preheat oven to 400 Degrees.

Soak the Porcini Mushrooms in 1 Cup warm water for about 15-20 minutes. Drain and set aside

Place Pistachios into a food processor and process until finely ground. Set aside.

In a large saute pan heat the olive oil and saute the Shallots until crisp at the edges. Add the garlic and saute until golden brown. Add the sausage and saute for 5-7 minutes until everything is well browned. Add the Porcini and the Wine and reduce. Remove from the heat and allow the mixture to cool.

In a small sauce pan add the flour to the Butter once it's melted until it begins to brown. Add the milk whisking until the mixture thickens. Add Salt to taste and Nutmeg. Set aside.

Cook the Paccheri half way through in salted boiling water. Drain the pasta and run under cold water. Add a few drops of oil to prevent sticking. Set aside.

In a large mixing bowl combine the cooled Sausage mixture, Ricotta, Pistachios and Parmigiano. Mix well and transfer into a disposable pastry bag and snip off the tip so the opening is about 3/4 of an inch wide. (a ziplock bag will also work, just fill and snip off a corner)

In a round pan about 11 inches in diameter spread a thin layer of Bechamel on the bottom. Arrange the Paccheri standing upright in the pan squeezing them together as best you can without breaking any. If there are a few left over try to arrange them in another smaller pan or discard them.

Now fill each of the Paccheri to the top with the pastry bag. Top with the remaining Bechamel and Sprinkle extra Parmigiano on top. Bake for about 30 minutes or until the top is golden brown. Serve immediately.
Categories:
First Course Recipes
,
Italian Pasta Recipes
,
Intermediate Recipes
,
All Recipes
,
Thanksgiving Recipes
,
Easter Recipes
,
Cooking with Rossella
,
Valentine's Day Recipes
,
Sausage Recipes
,
Porcini Mushrooms Recipes
,
Mother's Day Recipes
,
Father's Day Recipes
,
Baked Pasta Recipes
,
Valentine's Day  Recipes
,
Thanksgiving First Course Recipes
,
Easter First Course Recipes
Reviews
Wednesday, 10 June 2020
looking for recipe using porcini mushrooms - but that ingredient has been omitted from the recipe. ...
See Full Review >>
- naplesluv