Massaged Kale Salad with Sweet Sausage and Grana Padano
Massaged Kale Salad with Sweet Sausage and Shaved Grana Padano: As much as I love Italian food I love a good fresh salad, especially in the warmer months. When I'm choosing greens I like to get the most bang for my nutritional buck! I will usually reach for vitamin K packed Kale and jazz it up with things that make me feel like I'm indulging. Kale can be a little tough when it's raw but giving it a little massage with salt, lemon juice and a little bit of good quality extra virgin olive oil can soften it up and make its texture much more palatable. This is also one of my favorite greens to use because unlike other salad greens Kale holds up in the fridge for a day or two even when its dressed!
The lemon olive oil combo also happens to be my favorite salad dressing because that's how my family used to dress salads in Italy! Simple clean flavors never fail!
The rich taste of the sweet sausage with the Grana Padano cheese helps me feel full and satisfied! Remember, you can totally use whatever proteins and cheeses you want but these happen to be my faves!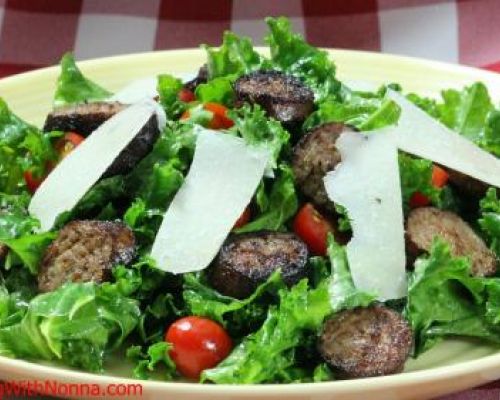 Ingredients
For 4 Person(s)
For the Salad:
4

cups

fresh kale washed and pat

1/2

cup

cherry tomatoes sliced into halves

1/2

pound

sweet Italian sausage

extra virgin olive oil (about 1/4 Cup for the salad and just a drizzle to sauté the sausage)

1

lemon, juice only

1/2

cup

Grana Padano cheese (shaved or grated)

salt and pepper to taste
Directions
Tear up the Kale in small bite sized pieces and place into a large bowl.
Add the lemon juice, oil and salt and massage for about 5-10 minutes or until kale begins to slightly wilt. Add the tomatoes and set aside.

Prick the sausage links with a fork and sauté until all the sides are nicely browned about 7-10 minutes. Transfer to a plate and slice the sausage links into rounds. If the sausage isn't fully cooked put it back in the pan after slicing it and cook until the slices are slightly crispy around the edges.

Toss with the greens and add the shaved Grana Padano on top.