Panettone Trifle
Panettone Trifle: This is such a great way to put together a quick dessert and use all that Panettone that everyone brings over! I usually have tons of my easy Custard cream leftover around the holidays, so I added that for some yummy velvety texture, but you can also just use whipped cream if you're in a pinch. The ingredients are simple and you can always swap out any fruits or nuts to fit your palate. I did a little taste testing to figure out which liquor tasted best with the Panettone (poor me!) and found that the sweetness of the Marsala wine really brought out the flavors of the cake. You can also substitute with some Rum or Sweet Vermouth Bianco, if you can find it.
If you don't own a Trifle bowl, don't sweat it! A regular bowl will work just fine.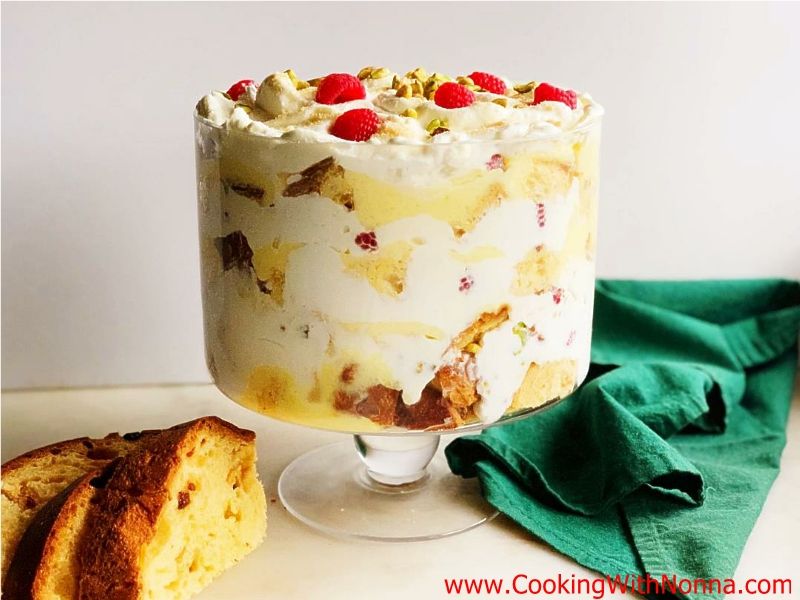 Ingredients
For 10 Person(s)
For the Trifle:
1

large Panettone cut into chunks

4

cups

of my Easy Custard Cream cooled to room temp (Custard Recipe Below)

2

cups

heavy whipping cream

2

tablespoons

powdered sugar

1 1/2

cups

Marsala wine (you can use more or less depending on how strong you like it)

1 1/2

cups

crushed Savoiardi cookies

4

cups

raspberries

3/4

cup

chopped pistachios
Directions
Leave a metal bowl and the beaters of an electric mixer in the freezer for about 10 minutes.

Combine the whipping cream and the powdered sugar in the cold bowl and beat until stiff peaks form. Set aside.

Arrange a layer of the Panettone chunks at the bottom of the bowl. Drizzle with marsala. Continue with a layer of raspberries , custard, crushed savoiardi, pistachios and whipped cream. Get the CUSTARD RECIPE HERE

Repeat until the bowl is full. Decorate with extra whipped cream, raspberries, pistachios and a dusting of powdered sugar.