Pasta with Fresh Sardines
Pasta con le sarde... perfect for St. Joseph's Day!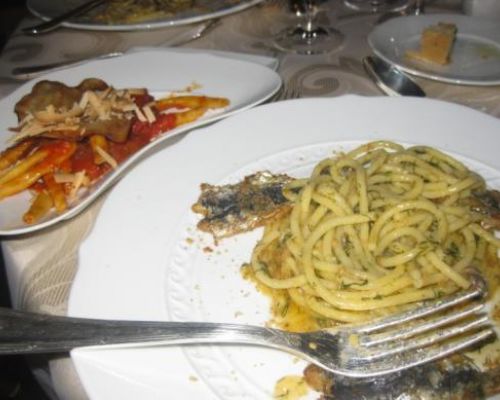 Ingredients
For 4 Person(s)
For the Pasta:
1

pound

bucatini (or thick spaghetti if bucatini are not available)

1

pound

fresh sardines

2

handfuls of fresh fennel fronds

1

medium onion

3

salted anchovies

1

ounce

sultanas

1

ounce

pine nuts

1

teaspoon

tomato concentrate

1

sachet of saffron

extra virgin olive oil

salt and pepper
Directions
Wash the fennel and boil in salted water. After 10 minutes take it out and chop finely.Keep the water for cooking the pasta later.

Chop the onion finely and sweat gently in some olive oil until soft using a large frying pan with lid for this.

Add the anchovies, the pine kernels and the tomato concentrate. When mixed well together add the sardines, the fennel and the sultanas.

Splash with white wine, burn off the alcohol and break up the pieces of sardine and anchovies with a wooden spoon.

Add the sachet of saffron, a little salt and pepper and leave to cook for about 10 minutes with the lid on.

The sauce should not get too dry, but be moist. In the meantime, cook the pasta and, when ready, add to the sauce in the frying pan.

Mix well and serve with a glass of chilled white wine.