Red Potatoes and String Beans Salad
.Red Potatoes nad String Beans Salad.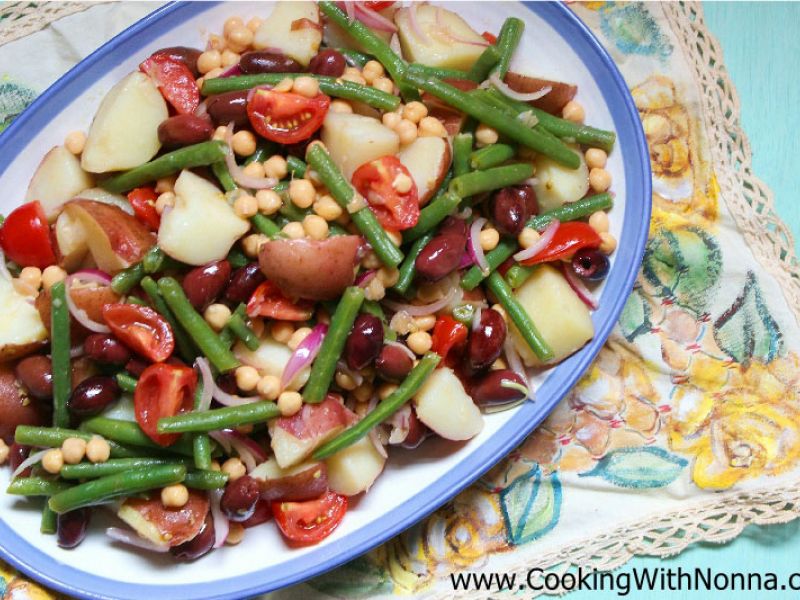 Ingredients
For 6 Person(s)
For the Salad
2

pounds

red potatoes, skin on

1

pound

string beans, washed and ends removed

1/2

pound

cherry tomatoes, quartered

1

mediun red onion, finely sliced

2

cups

boiled chickpeas

1

cup

Kalamata or Gaeta olives

1/2

cup

extra virgin olive oil

1/4

cup

red vinegar

salt & pepper as desired
Directions
Wash the potatoes and put them in a large pot with cold water and 1 teaspoon of salt.. The water should completely cover the potatoes. Do not remove the skin from the potatoes.

Bring the water to a boil and let the potatoes cook until a fork penetrates without much effort.

Drain the hot water and rinse the potatoes under cold water.

Cut the potatoes in pieces of about 1 1/2 inch in each side and set aside.

Wash and remove the ends from the string beans. Set aside.

Put a pot of water on the stove and add 1 teaspoon of salt. Once the water boils, add the string beans. Cook them for about 10 minutes.

Drain the water from the string beans and rinse them under cold water.

Put the string beans in a large bowl.

Add to the bowl the olives, the tomatoes, the chickpeas, the extra virgin olive oil and the vinegar. Add salt and pepper as desired.

Toss all the ingredients well.

Add the potatoes and genrly mix again.
Reviews
Wednesday, 04 July 2018
great recipe will make it again
- JudyRW42