Roasted Brussels Sprouts with Red Onion and Prosciutto
Roasted Brussels Sprouts with Red Onion & Prosciutto: These are everyone's favorite side dish for the holiday season! It also doesn't hurt that they're super easy to prepare on a busy day when you already have a million things to do. Just combine everything together and throw them in a super hot oven. The red onions caramelize and have a sweetness that compliments the sprouts and the crispy prosciutto. I personally love roasting them until the outer leaves are a bit charred because I think that brings out the most flavor.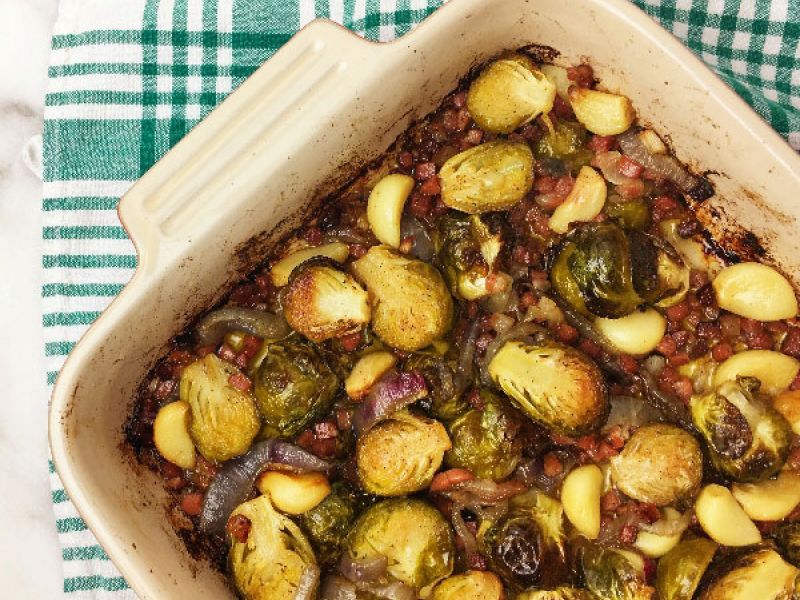 Ingredients
For 4 Person(s)
For the Brussel Sprouts:
16

ounces

Brussels Sprouts.,trimmed and cut into halves (you can also leave them whole. I like the halves for serving larger groups)

2

medium red onions cut into long strips

1/2

cup

whole garlic cloves (you can use less or more if you like)

3

slices of Prosciutto

1/2

cup

extra virgin olive oil

salt

black pepper
Directions
Preheat oven to 450 degrees

In a roasting pan combine the Brussels sprouts, onions, garlic cloves and oil. Season with salt and pepper to taste.

Tear the prosciutto slices apart with your hands and arrange on top.

Roast for 20-30 minutes or until the sprouts begin to look charred and the prosciutto is crisp. Stir once or twice.
Categories:
Appetizer Recipes
,
Side Dish Recipes
,
Easy Recipes
,
All Recipes
,
Christmas Recipes
,
Thanksgiving Recipes
,
Easter Recipes
,
Cooking with Rossella
,
Valentine's Day Recipes
,
Mother's Day Recipes
,
Father's Day Recipes
,
Valentine's Day  Recipes
,
Thanksgiving Appetizers and Sides Recipes
,
Christmas Appetizer Recipes
,
Easter Appetizer and Side Recipes