Roasted Chicken Legs
I love a good chicken dish with lots of flavor and texture to it and this one does not disappoint! I especially love chicken legs because of the incredibly flavorful meat. I started by pan frying the chicken legs in a cast iron skillet to make the skin crispy and delicious (let's be honest, that's the best part!) then I roasted it to perfection in the oven. This will ensure the chicken will be crispy on the outside and juicy on the inside. If you can't find speck (a smoked Prosciutto) at your local market you can absolutely substitute with regular prosciutto, it will still be delicious!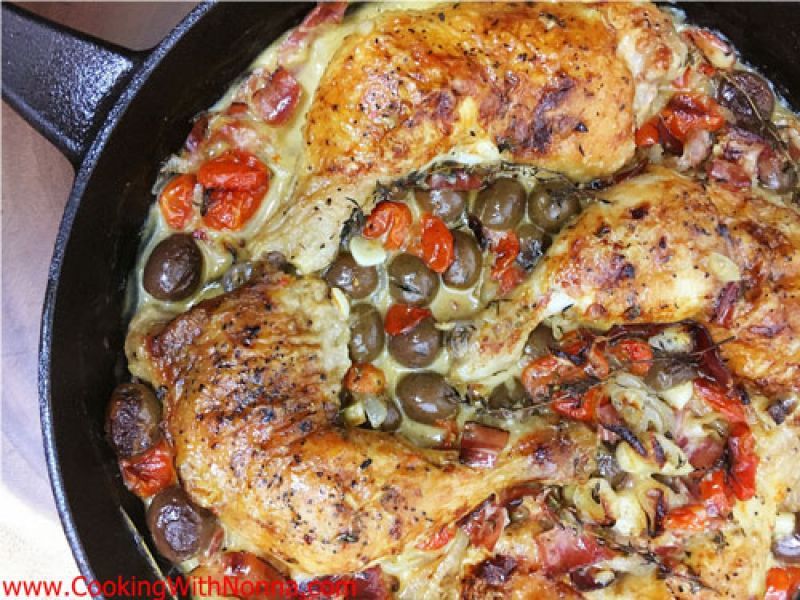 Ingredients
For 4 Person(s)
For the Chicken:
salt and fresh black pepper

4

whole chicken legs, about 2 pounds total

all purpose flour for dredging

2

tablespoons

olive oil

2

shallots, sliced

3

cloves garlic, cut in half

1

cup

grape tomatoes, cut in half

1

cup

pitted green olives

2

ounces

sliced speck, about 4 slices, cut into strips

2

tablespoons

extra virgin olive oil

3/4

cup

white wine

1

cup

chicken broth

5

sprigs fresh thyme
Directions
Season all the chicken legs with salt and fresh black pepper.

Dredge the chicken legs in the flour and shake off the excess.

Put a large cast iron skillet over a medium high flame and heat the olive oil. Place 2 of the chicken legs in the pan skin side down and cook for 6-7 minutes or until the skin is golden brown. Flip the legs over and cook and additional 5-6 minutes on the opposite side. Transfer to a plate and repeat with the remaining legs. Pour off the oil.

Preheat the oven to 450 degrees.

Add the shallots, garlic, tomatoes, olives and speck to the pan. Position the chicken legs over the ingredients and pour in the oil, wine and broth. Pull some of the thyme leaves off 2 of the sprigs and sprinkle over the chicken. Lay the rest of the sprigs in the pan.

Bring the pan to a boil on the stove and then place the pan into the oven. Roast for 40-50 minutes or until the meat pulls away from the bones.
Reviews
Tuesday, 18 February 2020
This has become a fast favorite in my house! Different layers of flavor come together so nicely with...
See Full Review >>
- MMoccia2
Tuesday, 05 June 2018
A very easy dish to cook and very tasty
- georgegazzone