Roasted Potatoes - Patate Arrosto
Roasted Potatoes with Rosemary... a side dish for all occasions.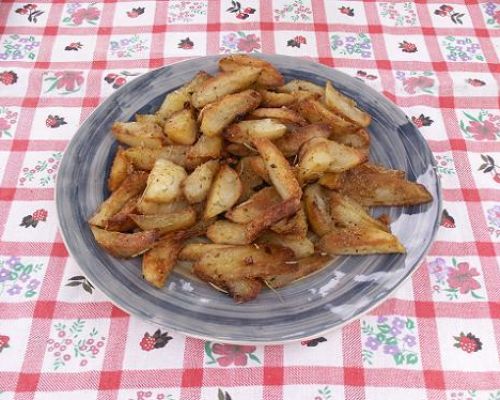 Ingredients
For 4 Person(s)
For the Potatoes:
1/4

cup

extra virgin olive oil, olus more for brushing and drizzling

3

pounds

russet potatoes, peeled and quartered

1

cup

clove garlic, shaved

2

tablespoons

finely minced onion

2

tablespoons

grated pecorino Romano cheese

1/4

teaspoon

dried oregano

1

teaspoon

chopped fresh rosemary

1/2

teaspoon

salt

1/4

teaspoon

black pepper

1/4

cup

plain bread crumbs
Directions
Preheat the oven to 400F. Brush a 13 x 9 baking pan with olive oil and set aside.

Put the potatoes in a large mixing bowl, add a 1/4 cup of olive oil, and toss well. Add the garlic, onion, cheese, oregano and rosemary, and mix well to combine. Add the salt and black pepper, and mix well.

Spread the potatoes in a single layer in the pan. Sprinkle on the bread crumbs and drizzle some olive oil over the top. Cover with foil and bake for 30 minutes. Uncover and bake uncovered for an additional 45 minutes, or until brown and crisp on the edges.

Remove the pan from the oven. The potatoes will appear to be stuck at the bottom. While the pan is still very hot, take a flat spatula (pancake turner) and wedge it under the crust that has formed under the potatoes. Scrape the potatoes away from you, separating the crust from the pan.

Transfer to a serving platter and serve hot.
Categories:
Nonna Rosetta Rauseo
,
Side Dish Recipes
,
Campania Recipes
,
Easy Recipes
,
All Recipes
,
Christmas Recipes
,
Thanksgiving Recipes
,
Easter Recipes
,
Valentine's Day Recipes
,
Super Bowl Recipes
,
Mother's Day Recipes
,
Father's Day Recipes
,
4th July Recipes
,
Labor Day Recipes
,
Potato Recipes
,
Valentine's Day  Recipes
,
Easter Dinner Recipes
,
Christmas Dinner Recipes
,
Summer Appetizer-Side Recipes
,
Gluten Free Appetizer Recipes
,
Vegetarian Appetizer Recipes
,
Mediterranean Diet Appetizer Recipes
,
Thanksgiving Appetizers and Sides Recipes
,
Christmas Appetizer Recipes
,
Easter Appetizer and Side Recipes
Reviews
Sunday, 28 October 2018
I found this recipe in the CWN cookbook and these are the best potatoes! My family loves them. They ...
See Full Review >>
- Bscordam