Spaghetti alla Nerano
Spaghetti alla Nerano.
This dish will bring you back on the Amalfi Coast!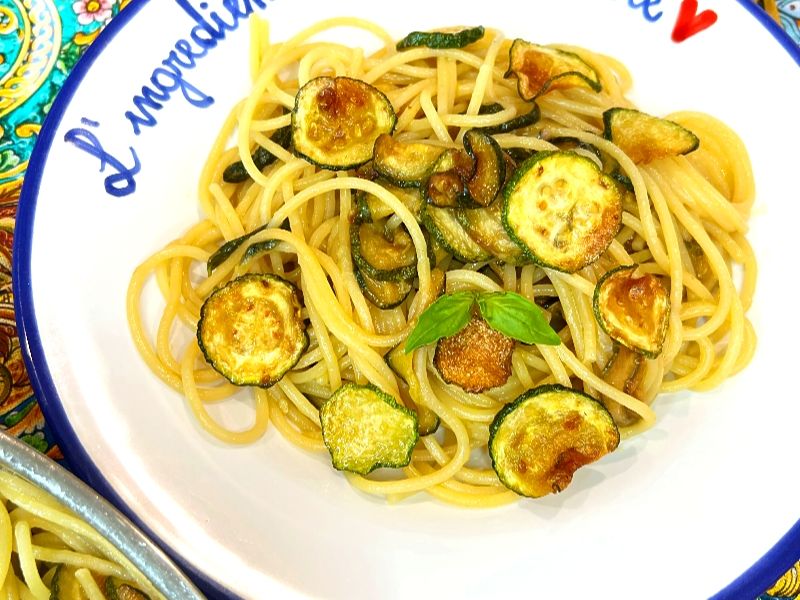 Ingredients
For 4 Person(s)
For the Sauce:
5

zucchini, sliced into 1/8 inch thick discs

extra virgin olive oil for frying

one bunch basil leaves, divided

salt as desired

1

pound

dried spaghetti

1

stick salted butter

2

garlic cloves, whole

2 1/2

cups

pasta cooking water, divided

1

cup

provolone piccante, grated

1

cup

Parmigiano Reggiano Cheese, grated
Directions
Get the products needed for this recipe

HERE

Put a large sauté pan over a high flame and heat the oil. When the oil is hot, begin frying the zucchini in batches until golden. About 5-7 minutes per batch. Scoop the zucchini out with a slotted spoon onto a paper towel lined plate with a few basil leaves. Lightly salt each batch of zucchini as they come out of the oil. Set the zucchini aside. Reserve a few zucchini to top the pasta.

Drop the pasta into generously salted boiling water. Cook for 5 minutes. Scoop out 2 1/2 cups of the pasta water. Set aside.

When the pasta has been cooking for about 5 minutes, put another large sauté pan over a medium flame and add the butter, a few leaves of basil and the garlic cloves.

Once the butter has melted, add the fried zucchini to the pan. Cook for 1-2 minutes and add 1 cup of the pasta water.

Once the pasta is Al dente, add it to the pan along with the provolone cheese and another cup of the pasta water. Cook until the cheese has melted and incorporated into the pasta.

Remove from heat and add the parmigiano cheese and mix, allowing the residual heat of the pan melt the cheese. If the pan looks fry, add the remaining 1/2 cup of the pasta water and mix. Serve immediately with an extra sprinkle of grated Parmigiano Reggiano Cheese.