Tagliatelle with Zucchini Flowers, Leaves and Fried Zucchini
I came up with the idea for this dish on last years Sorrento culinary tour. The villa we stay in is beautiful and has a vegetable garden to die for! Everyone was excited to pic fresh vegetables every day and of course, there were more zucchini flowers than anyone knew what to do with. Looking down at the plants I thought it might be a great idea to try and cook some of the leaves, after all, being Pugliese I'm certainly not afraid of eating my bitter leafy greens! My idea worked out and everyone loved the dish which we originally made with pappardelle, zucchini, leaves, flowers and vongole. This dish is a little simpler and showcases the delicate flavor of the entire zucchini plant. Plus, it's a great way to use up the bounty of zucchini you have in your garden. Enjoy!!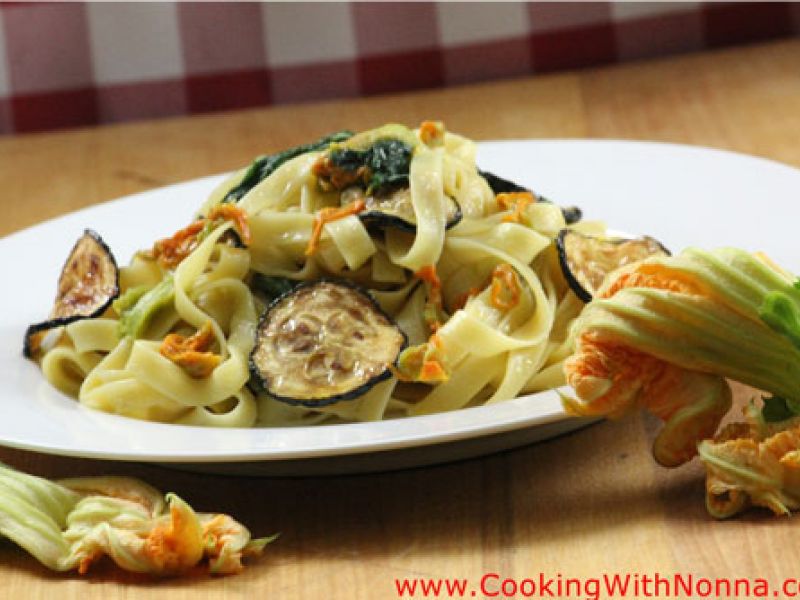 Ingredients
For 4 Person(s)
For the Pasta:
3

medium zucchini cut into 1/4 inch round slices

4

cloves garlic, sliced

1/4

cup

extra virgin olive oil plus more for drizzling at the end

8

ounces

Zucchini Flowers- Washed and patted dry. Stems trimmed and cut into 1 inch pieces (this may look like a lot of flowers but they will cook down quite a bit!)

5

ounces

Zucchini Leaves- Washes and patted dry. Tear by hand into 2 inch strips. Stems cut into 1 inch pieces

1

pound

dried tagliatelle pasta

salt, to taste
Directions
Bring a pot of generously salted water to a boil.

Put a heavy skillet over a high flame filled with 1/2 inch of oil and fry the zucchini in batches until golden brown spots begin to appear, about 6-8 minutes per batch. Set aside.

Put a large sauté pan over a medium flame and heat the olive oil. Add the garlic and sauté 1-2 minutes until it begins to color.

Drop the pasta into the water and stir.

Add the flowers, leaves, stems and a bit of salt. Sauté until wilted, about 2-3 minutes and add in 1/2 cup of pasta water from the cooking pasta. Sauté another 2 minutes and add in the zucchini.

Add the al dente pasta to the sauté pan and toss for 1 minute while drizzling extra virgin olive oil. If the pasta seems dry add a bit more pasta water. Taste for seasoning. Serve in warm bowls.